Note: I contacted the team at Gael gin and they kindly sent me a bottle to try, but as always I'll let you know what I think.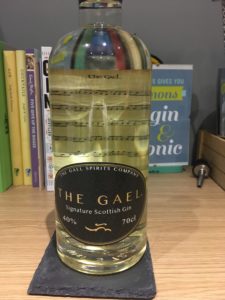 The Gael is an internationally acclaimed Scottish fiddle song that was originally composed for the Loch Ness visitor centre by Dougie MacLean, and since featured in the movie "The Last of the Mohicans". When his son Jamie and his partner Tanya got together with gin lovers Nigel and Beverley, they wanted to find a way to combine their passions for gin and music. The Gael Gin team differ from the majority of gins as they distil their own base spirit (which in itself is fairly rare) with malted barley which gives the gin a deep, rich base note. Wanting to keep the Scottish connection strong, they use Scottish heather as one of their botanicals alongside juniper, lemon and orange peel, cardamom and coriander. Looking through the bottle shows you the sheet music for The Gael, and the yellow hue is instantly noticeable. So, how does it taste?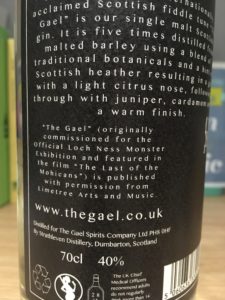 Opening my bottle and the malted barley instantly releases a sweet, caramel whisky smell. Considering there is no vanilla in it, it certainly has a whiff of vanilla about it. In the glass it tones down a bit, and adding a splash of water gives the juniper and other botanicals time to start coming to the surface. This is surprisingly soft on the tongue – I was expecting a harsher taste but the barley combined with cardamom gives it a nice rich mouthfeel with sweetness dancing around the edges.
Making it into a g&t with some Fever Tree light and I feel like this sits halfway between a gin and a whisky. It's one of those gins that makes me wonder about the definition of a gin and where the "predominantly juniper" part lies. By using malted barley as the base spirit, the spirit already has flavour and this impacts the taste of the botanicals. All the caramel sweetness that you get on the nose doesn't carry through to the tongue, but you get a big, rich flavour. When I've tried spiced gins, I feel they go better with ginger ale, and this might be the case for this one (they actually recommend Mediterranean or aromatic tonic so I'll keep trying and report back). It's warm and cosy, I feel like in the winter, next to a roaring fire and under a blanket, this will do the trick. Or in a hip flask on a brisk day as you explore Scotland's beautiful countryside.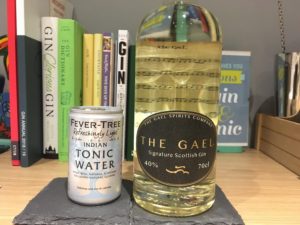 You can get your hands on a 70cl bottle of the 40% gin from their website for £40 (at time of writing). You can find them on Facebook, Twitter and Instagram.
Have you tried The Gael Gin? Let me know your thoughts on Twitter and Instagram. The Gael Gin  is one of the many great gins from Scotland, don't forget that 3 August is International Scottish Gin Day and there are LOADS of events happening so check them out.