Note: The team at Orkney Distilling kindly sent me a bottle of Aurora gin to try, but as always I'll let you know what I think.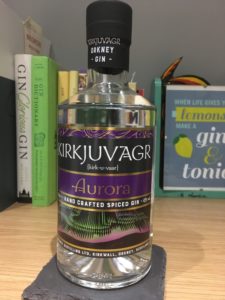 Back in May 2017, I tried Kirkjuvagr gin (pronounced kirk-u-vaar) and since then, the Orkney Distilling team have grown their range with a navy strength gin and two seasonal editions. Today we are trying their winter Aurora gin. Named after the Aurora Borialis, a phenomenon that appears in the sky over Orkney as winter draws in, this gin is inspired by cosying up by the fire – cinnamon, nutmeg and cloves bring a warmth alongside pink and black peppercorns. They recommend pairing this with ginger ale to amp up the spice. So, how does it taste?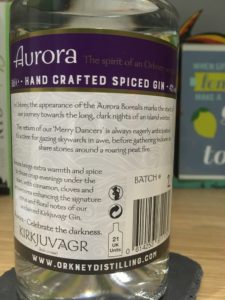 Opening my bottle – which, FYI, has a very well decorated lid – it smells slightly spiced but it isn't over powering. There's juniper there but also something slightly herbal. In the glass it is pretty clean, no one botanical stands out but it certainly gives your nose a little tickle. Adding a splash of water gives it an oil-like quality – that slight sheen on the the surface – but on the tongue it is simple at first taste, is quickly followed by a burst of spice, which fades as quickly as it comes. After the initial sip, the fire is a slower burn, but it is very gentle and warm.
I'm starting by mixing this with tonic water (Fever Tree light as per usual) and the carbonation from the tonic dampens the spice, but makes it more even across the mouth. The spice doesn't taste as warm anymore, it's fresher – like ginger and cardamom. It's really rather refreshing; if you like a spiced gin (or want to mix up your g&t game) then this might be one for you. Generally I've found that spiced gins don't work too well with tonic, but this has a good balance that lets the spice shine through without being grim.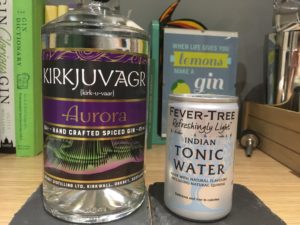 Mixed with some Fentimans ginger ale, personally I'm finding it a bit too sugary and sweet – this may be due to the ginger ale I'm using, but I think the dryness of the tonic works well. I am not massively keen on sweet drinks, especially gin (hence why I'm not a fan of a raspberry pink gin), and I don't think the ginger ale adds to this.
You can get a 50cl bottle of the 42% Aurora gin on the Orkney Distilling website for £27.99 (at time of writing). I think this is pretty good (although someone pointed out to me on Twitter that it seems a good deal but this is a 50cl bottle, so the equivalent 70cl bottle is apparently £39.19 [27.99/50=0.56*70=39.19]) You can find them on Facebook, Twitter and Instagram.
Have you tried any of Kirkjuvagr gin's range? Let me know your thoughts on Twitter and Instagram. Don't forget that as part of International Scottish Gin Day there are loads of events taking place, so check out some Scottish gins in the lead up to 3 August.