Note: I contacted the Beinn an Tuirc distillery team and they kindly sent me some to try. As always, I'll let you know what I really think.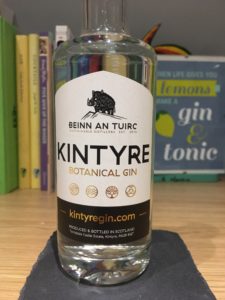 I think I speak for all of us when I say "what the hell does Beinn an Tuirc mean?" Well it's the highest point in Kintyre that the Beinn an Tuirc distillery team sources their water from; it translates from gaelic as "the hill of the wild boar". Kintyre gin features a (presumably) wild boar on top of a hill on their bottle and uses 12 botanicals – all of which are sustainably sourced. They combine macerating botanicals with vapor infusion and mix common botanicals orris root, lemon peel, liquorice, juniper and cubeb amongst others, with more unique ingredients Icelandic moss (which, confusingly, grows in Scotland and isn't actually moss) and sheep sorrel (not made of sheep, adds a hint of floral notes). They power their 230 litre still with their own hydro-electric scheme and each batch is named, rather than numbers, using the Gaelic alphabet. They recommend serving this with Mediterranean Fever Tree and garnished with basil, or light tonic with mint.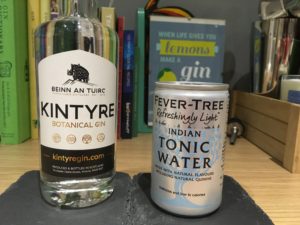 Opening my bottle and it is instantly juniper along with something earthy. In the glass, the pepper comes forward alongside something cleaner and crisper. Adding a splash of water and a touch of acidity enters the game, but a green apple type acidity rather than a citric fruit. A softer herbal note lurks at the back so it doesn't smell too sweet or fake. It's certainly peppery on the tongue, but it doesn't burn or over power the other flavours, indeed once past the initial spice you get a very light mouth feel. The flavours fade quickly and don't linger in your mouth, it's very refreshing – a worrying sign when drinking neat gin straight after work as this is very easy to drink.
Mixing it with some Fever Tree light, and the smell becomes a touch grassy – not quite herbal and not quite floral, but somewhere in between. I can see why they recommend the Mediterranean tonic as it is quite savoury; it becomes drier with tonic and I'm now craving olives and peanuts as a snack to get a salty fix. I started this with 50ml gin and 50ml tonic, but just by increasing this to 75ml tonic it becomes easier to drink, not quite as cloying or as dry and allows the botanicals to chill out a bit. It's still savoury, but a touch of a lighter perfume is allowed to enter your mouth. Adding a further 25ml takes it too far in my taste, so for me the ratio we are looking for here is about 2:3 instead of my usual 1:1.
You can get a 70cl bottle of the 43% gin from their website for £36 (at time of writing). I think I prefer this neat to as a gin and tonic, so if you like a sipping gin then this is my recommendation. But it's very easy to drink. So the bottle might go a bit too quickly. You can find Kintyre gin on Facebook, Twitter and Instagram.
Have you tried Kintyre gin? Let me know your thoughts on Twitter and Instagram. If you haven't tried Kintyre gin, why not check them out alongside all the other great Scottish gins in the lead up to 3 August which is International Scottish Gin Day.