Note: I contacted the Gin Bothy team about International Scottish Gin Day and they kindly sent me a sample to try, but as always I'll let you know what I really think.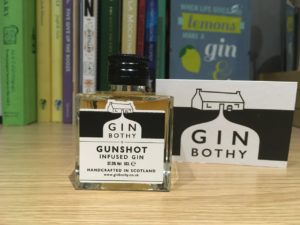 You might have seen my post about the original Gin Bothy, but today we try their Gunshot infused gin. This is proper small batch gin, they make just 38 bottles of this at a time which is distilled and infused for up to four months. They call this the "gin for whisky lovers". Which is interesting for a country so steeped in whisky history – although the advantage being that this is rested for four months, not a minimum of three years. It opens an interesting debate around interchangeable spirits, but this is a debate that this blog doesn't have the space for right now (or, frankly, the brain capacity or knowledge). The 'gunshot' they infuse their gin with is actually cinnamon, cloves and mixed spices (and it is worth noting this is bottled at 37.5% rather than the 41% of their original gin), they recommend filling your hip flask with this for a day's hiking, or mixing it with ginger ale. I'm all about mixing gin with ginger, but how does it taste with classic tonic?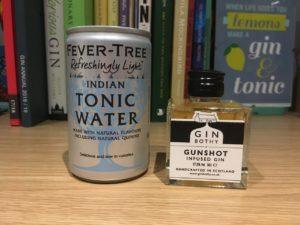 From the bottle and it doesn't smell like gin, it's rich and honeyed and Christmassy. I admit straight away that I am trying this on a nice, sunny day. So this might not be the ideal time to drink this gin. In the glass it is a light amber colour and opening it up allows the juniper to come through. A splash of water opens it up, but it stays in the earthy, spicy zone. On the tongue it is surprisingly sweet. I genuinely wasn't expecting that. It reminds me slightly of being 17 and on holiday in Newquay and drinking Todka (toffee vodka yo), that syrupy sweetness. The type that comes from a lemon and honey tea where you got distracted and put too much honey in. I'm sad that the spice doesn't make much of an appearance, there's a mild after taste of cinnamon, but it's hard to distinguish this from the syrup. I feel like I should have this warm to help get rid of a cold.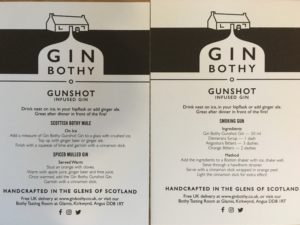 Mixing it with Fever Tree light tonic and the dryness from the tonic, doesn't necessarily balance the sweetness. I'm not going to lie, this isn't brilliant. I'm changing tack and I've found a bottle of Merchant Heart ginger ale in my cupboard. It certainly smells more balanced, and the flavours work distinctly better together. The fire from the ginger ale helps to balance the sweetness and together make a more caramel-like mouthfeel. Personally, it's still too sweet for me. But I get what they mean about putting it in your hipflask for a day's hiking. This is the kind of sugar hit you would need after a long day outside. I'm not so sure my Scotch-drinking father or Bourbon-drinking sister would agree that this is a gin for whisky lovers. I think it is too sweet to appeal (I should clarify: I'm not a big whisky drinker, but all whiskys I have tried are kinda peaty and heavy, even Jamesons with ginger beer). This tastes more like a caramel flavoured drink.
You can get a bottle of their Gunshot infused gin on their website for £36 for 70cl (at time of writing). If you have a sweet tooth, this might be your thing. Personally, it's not for me and I don't think I'll be buying it for the whisky drinkers in my family. You can find Gin Bothy on Facebook, Twitter and Instagram.
Have you tried the Gunshot infused gin? Let me know your thoughts on Twitter and Instagram.