Note: I contacted the Gin Bothy team and they sent me a sample to try, but as always I'll let you know what I really think.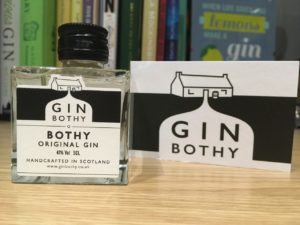 What's a bothy you ask? The Cambridge Dictionary says "(in Scotland) a small, simple building on a hill for walkers to shelter in, or one that is used on a farm for workers to live in". The Gin Bothy team reflect on this history and heritage and pledged to keep this at the core of their work. They use traditional methods to make their gin, using local produce such as pine needles and heather – they also have a range of fruit gins that use Scottish berries and rhubarb as botanicals. The respect for the land around them doesn't end there, £1 from every bottle sold is donated to the Woodland Trust to regenerate the local forests that supply them with their botanicals. Starting life by infusing gin with leftover fruit jams, their range is extensive but today we try their original gin. Here is where they use their pine needles and heather alongside milk thistle, hawthorn root and rosemary which they say invokes the memory of Scottish forests. So, how does it taste?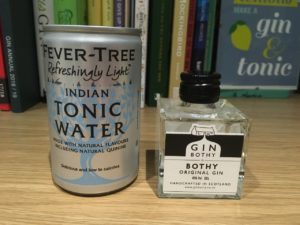 Opening my bottle, and it is pretty piney – not piney in a juniper kind of way but like an actual pine forest way. This does fill me with fear that it might be like Vidda Torr, but I'm not sensing any car air freshener so I'm thinking it will be ok. The heather also gives a touch of lightness. In the glass it becomes less piney and more balanced. Adding a touch of water mutes the smell, and it doesn't taste as intense as I thought. There is something floral about it, but nothing is too much. It manages to have a lot of flavour without being over the top, the rosemary gives it a savoury note right at the end.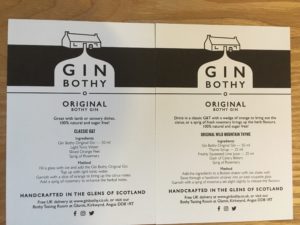 Mixing it with Fever Tree light and the profile changes, the juniper becomes more prominent, a thickness from the milk thistle appears and the floral headiness of the lavender fades. There's still a savouriness to it, but it's not like eating a herb garden. There is something bitter at the back of the throat, but that wasn't there before so I think it is the tonic rather than the gin. If you ignore this, there is a lovely feeling once you've had a mouthful and then breathe out through your nose, it is all tingly. That's right kids. Four years of gin blogging and I still enjoy a tingly nose sensation.
You can get a 70cl bottle of the 41% original gin from their website here for £36 (at time of writing). I think this would be well suited to drinking with my family up in Scotland, when even in June during a heatwave they put the fire on. It's quite heavy on the tongue, not a light, fresh summer drink. You can find Gin Bothy on Facebook, Twitter and Instagram.
Have you tried any of the Gin Bothy range? Let me know your thoughts on Twitter and Instagram. Don't forget that 8 August is International Scottish Gin Day, a day to celebrate all things ginny that come from my favourite place – there's going to be loads of events taking place so make sure you check one out!