Note: I contacted Foxhole spirits when I heard about Hyke gin and they kindly sent me a bottle to try, but as always I will let you know what I really think.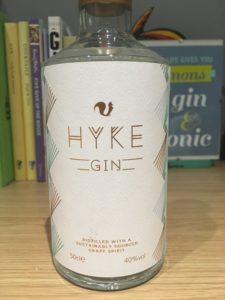 As an avid reader, I know you'll remember my review of Foxhole gin, and Foxhole spirits have gone on to create HYKE gin. Similar to Foxhole, they use surplus grapes to create their base spirit – did you know that around 713 tonnes of grapes are not suitable for consumption so would go to waste? Once the base spirit has been made, they distil this with botanicals inspired by their grapes' African and South American roots – juniper, coriander, aniseed, rooibos, myrrh, bay leaf and lemon zest. All in all, a slightly random mix of botanicals, but they say this creates a gin that leads with sweet citrus before spice and 'complex aromatics' kick in. The gin, with its beautiful labels, will be exclusively available in Tesco as part of their commitment to cut food waste by one-fifth within a decade.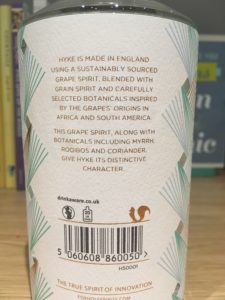 Opening my bottle (super easy perforated foil – a big advantage of catering for the masses) and it smells great. It smells deep and earthy but with a top note of lemon. In the glass, the earthiness becomes balanced by a herbal note (probably from the bay leaf) and adding a splash of water keeps it crystal clear, but it takes on an oily quality. It also becomes lighter and perfumed; throughout the few minutes I've been sniffing this the flavour profile has changed entirely. Neat on the tongue it is quite plain and easy to drink, hints of soft coriander like fresh rain with a hint of pepper at the very back. Very quaffable.
Mixing with some Fever Tree light and the flavour profile changes again. It is quite savoury, almost salty, like a Ritz cracker with some dip. This is delicious. I don't usually like herbal gins, but the herbs are balanced by a lighter perfume which is equalised by a tang from the citrus, all rooted in a depth at the back of the mouth. It reaches all corners of the mouth, it satisfies all of your taste buds, it has a slow finish but it doesn't coat your tongue or leave a cloying feeling. It leaves your mouth dry and crisp and begging for more.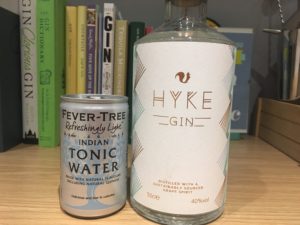 A bottle of HYKE gin is available in 300 Tesco stores for £24 for a 50cl bottle of the 40% ABV. This is a bargain. And delicious. And doing good for the environment (sort of). The fact that this level of gin is available for this price is a brilliant thing for the gin world – Foxhole may be a small company but with the investment and backing of a national chain, there is no reason why craft gin can't be accessible for everyone. You can find Foxhole on Facebook, Twitter and Instagram.
Have you tried Foxhole or HYKE gin? Let me know your thoughts on Twitter and Instagram.