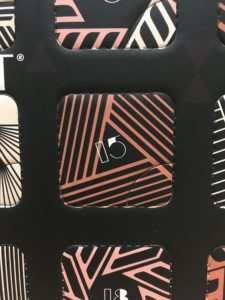 Hayman's make good gin. Blanket statement. I hope. I've tried their London Dry, Sloe and Old Tom gins, and today we try their Royal Dock. This is bottled at 57% ABV, traditional for Navy Strength gin and they still use the same recipe that was used in 1863 when they supplied the gin to the English Admiralty. The higher ABV allows the juniper to shine through, accompanied by notes of citrus, coriander and a hint of subtle spice.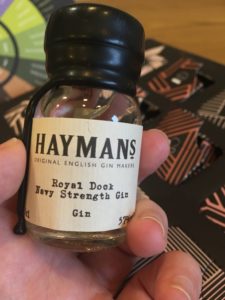 In the bottle, it's very juniper heavy with a touch of spice, but it's light on the nose. In the glass it still smells like a classic gin, but is slightly calmer than in the bottle. With some time to breathe, the pine develops and fills your headspace, although I'm surprised it's not more "in your face", 57% gin tends to whack you around a bit.
Sipping it neat, my Dad made a great gin face at first, I might not have mentioned to him that it is navy strength, but he says it tastes good. On the tongue you get big pine notes with a touch of citrus at the back, but frankly it is the juniper that dominates. This is a proper gin. It burns ever so slightly on the way down, but on this wet, windy, cold afternoon I'm finding it rather warming. With a touch of Fentimans premium Indian tonic the juniper fades from the nose, but it's very much there in the tongue, a peppery heat developing in your throat and still leaving you warm inside. It's reminiscent of Fishermen's Friend, when you breathe out through your nose it's all tingly and mentholic. Adding a little wedge of lime helps to bring down the burn and brings out a softer quality.
You can get a 70cl bottle of Royal Dock from Gin Kiosk for £29.60 (at time of writing), which is an absolute bargain for a Navy Strength gin. Particularly one this good. You can find Hayman's on Facebook, Twitter and Instagram.
Have you tried Hayman's gin? Let me know your thoughts on Twitter and Instagram and keep up with all things Ginvent here.