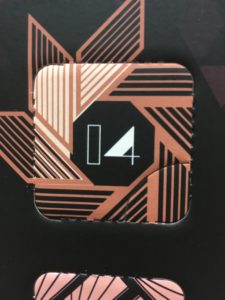 It's day 14 of Ginvent and today we are drinking Tappers Darkside gin. Tappers have been making gin since 2016 in their home of West Kirby, t'up norf near Chester and Liverpool. This is certainly a small batch gin, every batch they make is a total of 40 bottles, each of which is hand filled, labelled, waxed and numbered. It took them a year to develop the recipe, based on Prohibition Era compound style gins. Darkside gin reflects the mix of seaside botanicals from the area: red clover flowers, chickweed and sea beet alongside five other botanicals (they don't say that these are, but I'm guessing juniper, angelica and orris root are probably in there somewhere because they always are).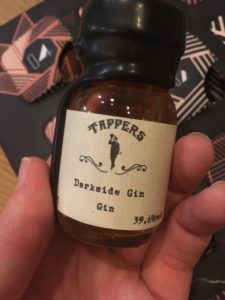 Opening the bottle and it's surprisingly musky, very deep and earthy. Dad is joining me today and we both agree there's something peppery and almost like a curry powder. It's very rich and pungent. It looks more like a whisky (according to my whisky drinking father, well, and me, I have eyes), a dark golden brown with "good legs" which according to my Dad means how well it runs down the glass. In the glass it mellows out a bit, but keeps the warmth to it.
Sipping it neat and it's an interesting flavour. It is deep and herbal, like a Jagermeister, but not too harsh (probably as it is only 39.6%). It has a long, slow finish, the peppery notes linger around with a herby aftertaste. If you didn't know it was a gin, we don't think you would recognise this as a gin. Mixing it with Fentimens premium Indian tonic (although I actually think this would work brilliantly with some ginger beer and lime), this is actually great. The pepper and a fresher ginger note come forward giving it a real kick, but nothing overpowering. There's a touch of sweetness at the very back, almost like there's a little squeeze of honey or something. I like this. Dad prefers it neat. But he does like neat whisky. So we are a tad different in our tastes.
You can get your hands on a 50cl bottle of the 39.6% gin for £39.90 from Gin Kiosk (at time of writing). I quite like this, I think you could do a lot worse. You can find them on Facebook, Twitter and Instagram.
Have you tried Tapper Darkside gin? Let me know your thoughts on Twitter and Instagram. Check out the last 13 days of Ginvent here.