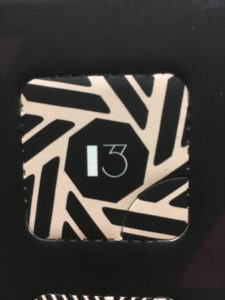 Today is lucky number 13 of Ginvent and today we are trying a gin I only heard of recently, with a cracking bottle design. An Dúlamán Gin comes from County Donegal in Ireland, Sliabh Liag Distillery is the first distillery from Donegal for over 175 years and their main botanical is local seaweed. Five types of seaweed to be precise. This ties into the brand via the name – Dúlamán comes from an Irish folk song about a conversation between two seaweed collectors. Basically. They REALLY like seaweed over there.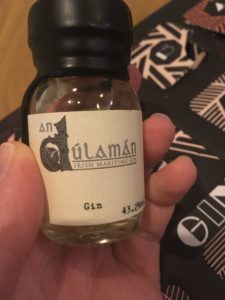 Opening my dram and there's definitely something vegetal in there – but not a herby vegetal, like a deep salty vegetal. It's almost like they filled it with seaweed or something. With time to breathe in the glass, the saltiness is clinging to the air, but it's not overpowering. There's not much else going on sadly. This is one of the ones I am hoping tastes nicer than it smells. It has a thick, creamy feel to it on the tongue, and is surprisingly easy to drink with a whack of pepper to it. The salt is only just discernible, like the taste left in your mouth after a long walk on the beach.
Mixed with a splash of Fentimans premium Indian tonic and the flavour develops. To what I can't quite work out. There's something dry and bitter at the back of the throat, but a touch of bright citrus and fresh flowers at the front. It's slightly strange. I can't quite work out whether I like it or not. It changes from refreshing to cloying as it travels through your mouth. It does leave a nice dryness to your mouth leaving you wanting more. Adding a small piece of lemon peel balances this out, it tones down the harsher back notes and raises the sweeter front notes.
You can get a 50cl bottle of the 43.2% gin from Gin Kiosk for £33.90 (at time of writing). I'm not sure about this, it's nice for a change but I don't think this is a gin to settle down for an evening with. You can find An Dúlamán on Facebook, Twitter and Instagram.
Have you tried An Dúlamán gin? Let me know your thoughts on Twitter and Instagram. Don't forget to keep up with all things Ginvent here.