Note: The team at Gwyr kindly sent me a bottle of Bara Brith to complete the set, but as always I'll let you know what I think.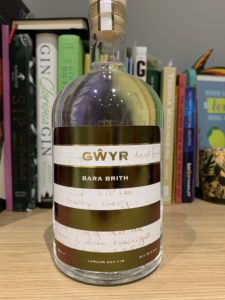 Readers of the blog will know that I am a big fan of team Gower Gin. I've already sipped on their Original gin, seasonal Pinwydd, and Rhosili gins, and today we try their latest addition: Bara Brith. What is Bara Brith you ask? Sometimes known as 'speckled bread', it is a mixture of dried fruits, brown sugar, spices and black tea, and this gin is inspired by their grandmother's own recipe. This recipe is reproduced on their signature striped labels, and included with every order inside the reusable muslin bag. They soak the fruit in warm tea with fresh citrus, ginger, nutmeg and cinnamon before distilling it and they suggest serving it with ginger ale or with tonic and a slice of lemon.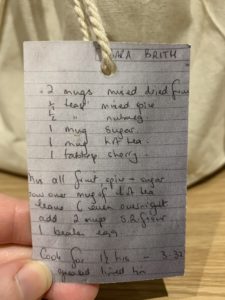 Opening my bronzed bottle and this smells delicious already. I'm not a fan of fruitcake, but I want to stuff this right in my face. Those spices are so inviting, I'm going to dig right in. In the glass, the herbal notes from the tea are more prominent and that lovely combination of ginger and cinnamon get right up your nose. A drop of water helps bring those perfumed notes right out with hints of candied lemon peel. On the tongue it is surprisingly sweet, before a hint of pepper sweeps in across your tongue and turns into the creaminess of the nutmeg. Potent aromas fill your mouth and the citrus gives it a nice lift so it isn't too heavy.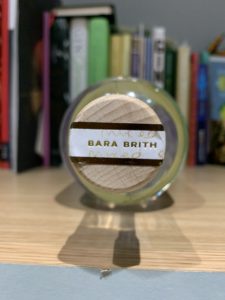 For consistency, I'm mixing this with Fever Tree light tonic and it is so bright – it's not what I would think of when I think of mixed fruits soaked in tea. There is a headiness to it from the fragrant tea and a sense of juicy, plump raisins alongside a freshness from the citrus. Frankly, on paper I was worried about this. It's lots of things I don't really like: dried fruits, tea (sorry England), spices in gin. But it has pleasantly surprised me. Which makes me happy as the idea of not liking a Gower gin is very bad. But this is different. I don't think it is my favourite of the range, but I think mixing it with ginger ale would work perfectly, as it would paired with cake.
You can get a bottle of Bara Brith from their website for £29.95 (at time of writing) for a 50cl bottle of the 43% gin. Personally, I think investing in the Pinwydd gin is a better idea because DAMN that makes a great negroni, but if you're looking for something interesting and different, this is for you. You can find Gower on Facebook, Twitter and Instagram.
Have you tried any of the Gower range? Let me know your thoughts on Twitter and Instagram.