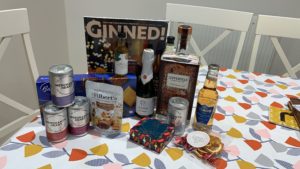 December is a tricky time – well, by tricky I mean I get my Craft Gin Club delivery and because it's Ginvent I don't get to open my delivery until later in the month. This month we got a bumper box: four cans of Merchant's Heart tonic, festive nuts, Pedrino sherry and tonic spritz, a bottle of cava, biscuits, winter tea, and the main event – Copperfield A Christmas Carol gin. Distilled in the Surrey hills, husband and wife team Chris and Katherine (who between them have a degree in biochemistry and chemical engineering, and a PhD in brewing and distilling) were left home alone after their children grew up and decided it was time to set up their distillery. Inspired by the classic books collected by Katherine, and named after a legendary policeman in their village, the Surrey Copper Distillery was born.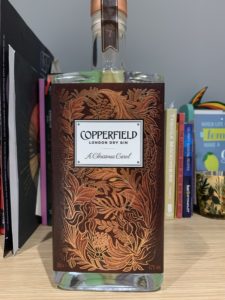 Going full steam ahead, they designed a spirit lab and distillery, ordered two 2 litre and one 20 litre copper pot stills for their gin, plus a second 20 litre still for their vermouth. All are named after literary characters – Tweedle Dee and Tweedle Dum, Alice, and Wendy (Darling), and their branding is an homage to illustrations on antique book covers. Their original London dry gin uses – you guessed it – a historical recipe found in a library archive of pink peppercorns, cubeb berries, rose petals, hibiscus and elderflower. This time we are trying their Christmas gin exclusive to Craft Gin Club members which focuses on cloves, cinnamon, star anise, orange, rosemary and sage. So, how does it taste?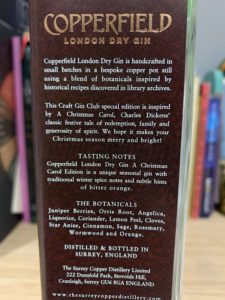 Uncorking my bottle almost seems a shame as it is so beautifully labelled, but inside the contents smell just as good as it looks. The spices are certainly there, but nothing feels overpowering which is nice. In the glass (or, all over your table if you're as clumsy as me) it becomes quite aniseed like, very bright with lots and lots of fennel. This carries through onto the tongue, very mentholic before a hint of juicy orange shines at the back of the mouth. Sadly I'm not getting any of those rich spiced notes at the moment. As it currently stands, not one for me as the liquorice is so strong.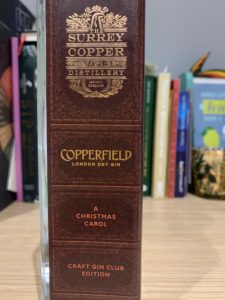 Adding some light tonic and the liquorice tones down and suddenly you get a big mouthful of intense spice. It almost burns slightly, I wasn't expecting that. Now I know what to expect, you get all those spiced notes along with some fiery ginger alongside the bitterness from the wormwood. Not getting too much citrus through, the main focus now is on those Christmassy flavours. It's much more pleasant with tonic, but I'm still not in love – which is a shame as all the Craft Gin Club deliveries I've had recently have been massive winners. Mixing it as suggested with Merchant's Heart hibiscus tonic and dried cranberries and orange, and it smell incredible. The floral tonic helps to balance the spice, you get a good amount of Christmas but also the citrus and sweetness is upped to a very delightful level.
You can't get you hands on a bottle at the moment, but you can try their original recipe gin from their website here. You can find Surrey Copper Distillery on Facebook, Twitter and Instagram. If you fancy joining Craft Gin Club, use this link and we both get £20 off the next box!
Have you tried Surrey Copper gin? Let me know your thoughts on Twitter and Instagram.