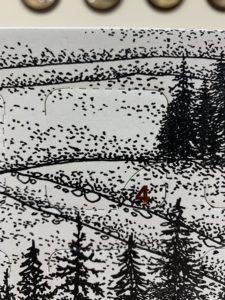 Ginvent means one thing: a Tarquin's exclusive! Pairing up with team Gin Foundry for the third time (first was the Hedgerow gin, second was last year's Tan Ha Mor), they kept fairly shtum about what exactly is involved, but luckily months of Instagram stalking (and a few conversations with Emile and Olivier) plus their release a few weeks ago mean we know a bit about this now. They wanted to really invoke the sense of Cornwall of barbecues on the beach (which TBH is summer in most coastal areas, Brighton included). Pictures from their Instagrams show the team on the beach with trays of woodchips, and they have said they threw everything on – sea samphire, fennel, saffron, spiced butter and, I kid you not, lobster. Whacked on a few extra lemons and let it all char and griddle to get a real sense of candied fruit and smoked wood and the job is a good'un. This mixture of non-veggie friendly goodness was then throw in the the pot to be distilled. So, let's see how it tastes.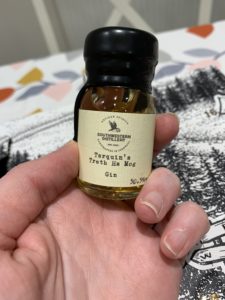 Cracking into my dram and it takes me a moment to work out what I can smell. There's definitely citrus, and as you settle in you pick up those rich, smoked wood aromas. It's not like a peaty whiskey smell, it's more sweet and caramelised, alongside something piney. In the glass, it comes together and feels more like a whiskey now, with hints of fleshy fruits. Allowing it to sit for a minute and the 50.5% ABV wakes you up – not as intense as a navy strength gin but you get a feeling for what is to come. A sip of it neat is like you lit a bonfire in your mouth – bright pepper on the very tip that stays there for AGES, a mouthful of smoke travels up and into your nose, and a sweetness that develops and lingers long after you've finished your sip. A second sip isn't quite as intense but still gives that beautiful feeling that you've inhaled some bonfire smoke, it's a gin that wakes up and fills your senses.
They've suggested putting this in an Old Fashioned style cocktail which I think will work brilliantly, but for continuity I'm adding a splash of tonic. Diluting it brings it to a beautiful hay yellow, like the beginnings of a sunset (the perfect time to beach BBQ). The tonic brings the smoke down to a more manageable level, perfectly balanced by the caramelised citrus. It becomes lighter and more perfumed, whilst having this beautiful rich texture from the melted butter which coats your mouth to allow you to relish all that is going on. Whilst I think this would make a beautiful cocktail, it is also lovely neat and as a longer drink – I can imagine this in the summer as a punchier summer cup with ginger ale.
You can't get a bottle of the Treth Ha Mog gin as it sold out pretty soon after going on sale (as their collaborations usually do). I however was very lucky and nabbed a bottle so if you ask very nicely, perhaps we can do a gin swap. You can find Tarquin's on Facebook, Twitter and Instagram. Now, I'm off to make some smoky negronis…
Have you tried Tarquin's gin? Let me know your thoughts on Twitter and Instagram. Keep up with all Ginvent fun times here.