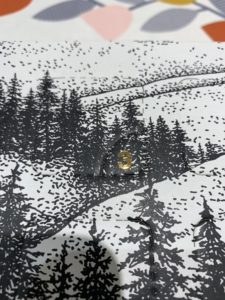 It's day three of Ginvent and we've hit our first strange gin – Pickering's limited edition Brussels sprout gin. To celebrate the Christmas season, they have released six festive flavours: cranberry, figgy pudding, plum & ginger, spiced pear & cinnamon, clementine, and today's flavour Brussels sprout. Using their classic gin as the base spirit, they distil their gin in their copper still Gertrude and they say this results in a herbaceous finish with bright green pepper notes. Matt, the co-founder and head distiller at Pickering's, found 10,000 sprouts in January to make this gin, which shows how long in the making a new gin flavour can be. Mixed with classic tonic, they suggest adding a slice of cucumber as a garnish, or making it into their "love it or hate it" cocktail with fresh cucumber, lime, orange bitters and elderflower tonic.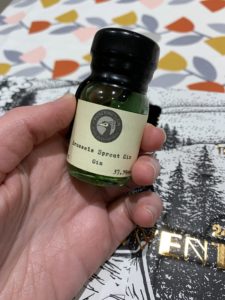 You don't even need to open the bottle to see just how insanely green it is, surely that colour is added afterwards? On the nose, it has that kind of cabbagey/kaley/fresh greens smell. I'm not opposed to this, but is it what we want to drink? That smell doesn't go away when it's poured into a glass. Luckily there are hints of citrus at the back that make sure it isn't too earthy plus you can still detect the juniper. Sipping it neat and at first you don't get the vegetal taste, you get big juniper and a whack of pepper, then as it develops you get the savoury notes. To be honest, you can smell sprouts, but you can only taste them at the very back of your throat. I'm not sure I have much against this, other than it makes me want to go buy a bag of sprouts to have for dinner.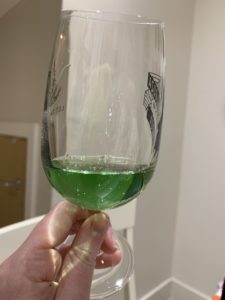 Adding a splash of Fever Tree light tonic, the smell of veg has amped up and so has the flavour. It's still not overbearing, it's actually quite light and crisp – a twist of lemon peel would go delightfully with this. It reminds me of post-Christmas leftover meals with shredded sprouts rather than an overly boiled mushy sprout, the kind that keeps its flavour. Sadly the punch of peppered spice at the back of the throat disappears with the addition of tonic and that dulls the senses slightly. The smell is definitely stronger than the taste, on the tongue it's more complex than anticipated.
You can get a 20cl bottle of the 37.5% gin (yes, gin, not liqueur) direct from the Pickering's website for £12 (at time of writing). I have nothing against the flavour of this, but other than a novelty gift, will anyone actually buy this? You can find Pickering's on Facebook, Twitter and Instagram.
Have you tried Pickering's gin? Let me know your thoughts on Twitter and Instagram. Keep up with all Ginvent fun times here.