Note: I contacted Biggar for a sample and they kindly sent me one to try, as always I'll let you know what I think.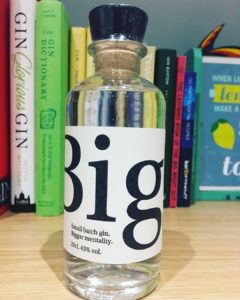 Biggar gin is one of the many new brands coming from Scotland, started by two brothers who focus on small scale production with big ambitions. They take their name from the town they grew up in, south of Glasgow and Edinburgh in the Southern Uplands and distil their gin at the famous Strathearn Distillery. Traditional botanicals juniper, coriander seeds, cardamom and orris root combine with rosehip, rowan berries and lavender. The idea behind the botanicals is to create a balance of flavours – sweet meets savoury, florals meet earthiness – which reflects the local landscape. So, how does it taste?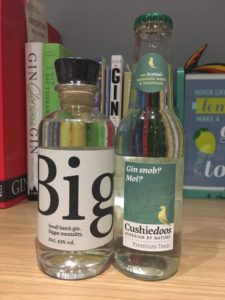 Opening my bottle (which, by the way, I've been in love with for a while) and you definitely get a hit of heady, perfumed lavender and something herby at the back. In the glass, the juniper is allowed room to come through alongside an almost woody tone. It's very reminiscent of a walk in the woods. Diluted with a splash of water and it's very easy to drink. Like, worryingly easy. As you lift it to your face the muskiness hits you, but on the tongue it's light and slightly floral with a nice warmth at the end. This is definitely too delicious to drink neat on a school night.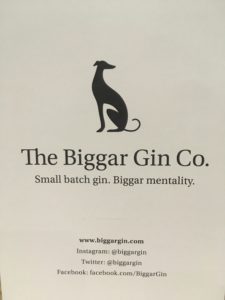 The team at Biggar kindly sent me a bottle of Cushidoos tonic (another great Scottish brand, check out my review here) so I'm using that to have a proper Scottish gin and tonic experience, in a 50/50 mix. It's a good'un. Still very smooth and easy to drink, the gin takes on a softer vanilla smoothness. It almost has the thickness of an almond milk without the nuttiness. Super smooth, the botanicals work in harmony so you get none of the soapiness that lavender usually brings, a fresh citrus lift, a tiny bit of warmth from the peppercorns and again it is SO SMOOTH. I could drink this all day.
You can get a 50cl bottle of the 43% gin from their website for £32 (at time of writing). Absolute bargain. I cannot recommend this highly enough. And did I mention it was super smooth? You can find Biggar on Facebook, Twitter and Instagram.
Have you tried Biggar gin? Let me know your thoughts on Twitter and Instagram. Don't forget that International Scottish Gin Day is on 3 August 2019 so why not check out The Gin Cooperative and everything they are doing to promote Scottish gin. Closer to the time, they're hoping to hold a number of events to introduce you to some new gins and to raise the profile of the craft.