Note: I contacted Fidra to ask for a sample and a chat about where my family are from in Scotland, even though they're based near the family home, I'll tell you exactly what I think of the gin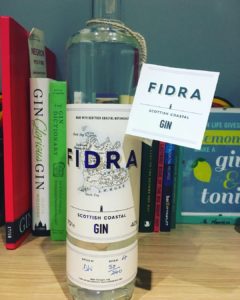 For those of you that know your Scottish islands, you might know of Fidra off of the coast of East Lothian. Fun fact – my Dad grew up near the border of East Lothian and we spent many a summer holiday eating ice cream on the beach in Musselburgh which is just along the coast. Emma and Jo set up Fidra Gin after their passion for gin developed and they wanted to showcase botanicals grown on the East Lothian coast. The botanicals used include sea buckthorn, elderflower, lemon thyme and rosehip, all handpicked from the local area. The proximity to the sea allows the botanicals to impart a slightly salty taste to the gin and their love for their area carries through to their branding, a beautiful tall, thin bottle with a label depicting the region. So, how does it taste?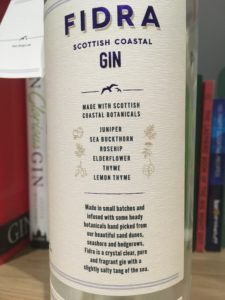 Opening the bottle and the juniper is noticeable, but the saltiness comes through once it opens up in the glass. With the initial sea breeze in your sinuses, the notes fade leaving just a crispness from the sea buckthorn. Adding a touch of water and it has an oily quality to it but the water breathes some life back into the gin. It's bright and fresh, something which carries through onto the tongue. It's very soft from the flowers and easy to drink, but leaves a slight peppery note to perk up your mouth.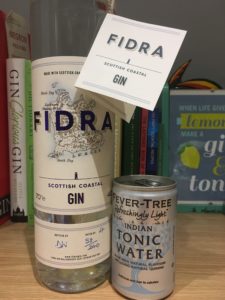 Mixing this in to a gin and tonic using Fever Tree light and the slight carbonation and bitterness balances this gin. It stays light on the front of the tongue, but the pepper changes into a more herbal note which lingers long after the mouthful has gone. There is a touch of sweetness, like you've had a little dab of sherbet mixed in with it that brings a citrus acidity with it to cut through the floral tones. All in all, I rather like this.
A 70cl bottle of the 42% gin is currently £39 from their website (at time of writing). You can find Fidra on Facebook, Twitter and Instagram.
Have you tried Fidra gin? Let me know your thoughts on Twitter and Instagram. Don't forget to check out The Gin Cooperative who are organising International Scottish Gin Day on 3 August to learn more about Scottish gin.