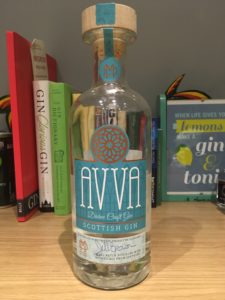 I've admired the bottle of Avva gin for a while, and truth be told it's been sat on my shelf for nearly two years thanks to my old housemate bringing me a bottle home from one of her events. Based in the old cathedral city of Elgin (up the top near Lossiemouth) the Moray Distillery uses botanicals selected from the highlands and Speyside (including red clover, dandelion and nettle) to create their small batch gin. Avva means a respected grandmother from the Indian language of Dravidian, but in Hebrew it means to overturn or ruin – combined they make a nod to the traditional mother's ruin reputation. Their still is made in Speyside and is named Jessie Jean after the founder's grandmothers. The love of the local area continues into their branding, the label features the 'rose window' which is an idea of how the cathedral's round window would have looked when it was still standing.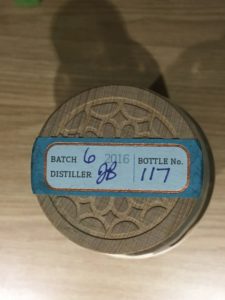 Pulling the giant cork out of the bottle and you're met with juniper and a touch of headiness from a perfume. It's not too light and floral though, so no fear of a headache from this. In the glass this becomes lighter and crisper, with notes of pear and apple lingering at the top. A splash of water changes this rather dramatically, suddenly your hit with peppercorn and cardamom – flipping to the other side of the botanical tasting wheel. On the tongue it's slightly bitter, but with a touch of citrus like a squeeze of grapefruit juice meets a slice of ginger. The first sip was confusing, but now I'm used to it I rather enjoy it.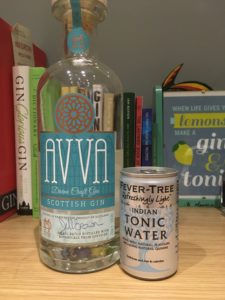 Mixed into a gin and tonic with Fever Tree light allows the citric notes to shine, but isn't as bitter as it was neat. There's flavour there, but everything is well balanced. Quite sweet but rooted in an earthiness that shines at the back of the throat to counteract the sherbet at the front. Overall, it's quite interesting, the flavours linger and develop before slowly fading.
You can get your hands on a 70cl bottle of the 43% gin from Avva's website for £38 (at time of writing). I think this is pretty good value, it's an interesting gin and provides you with a beautiful bottle at the end of it. You can find Avva on Facebook, Twitter and Instagram.
Have you tried Avva gin? Let me know your thoughts on Twitter and Instagram. Remember, it's International Scottish Gin Day on 3 August so make sure you keep checking out all the great products coming out of the country!