Note: The team at Maverick Drinks sent me a bottle to try out on the blog, but as always I'll let you know what I really think.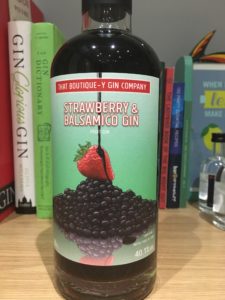 I'm going to be super honest up front: this does not sound like my cup of tea. That Boutique-y Gin Company have decided the best combination to match with gin is strawberry and balsamic vinegar. Now, don't get me wrong, I like strawberries, I like balsamic vinegar, and I like the two together. But as a gin? They say the combination of the three works perfectly, a mix of syrupy, sweet and savoury together. They make it by creating separate distillates of black pepper, strawberry and Aceto di Balsamico tradizionale di Modena DOP aka the fanciest balsamic you can get your hands on and which is geographically protected a la Champagne. Not only does it have to be made in the province of Modena, but is has to also be aged for between 12 and 25 years in small barrels which gives the gin an oaky quality which balances the sweeter, fruity notes. They suggest having it on its own, with tonic or with prosecco – I'm a big fan of mixing sweeter liqueurs with prosecco, so perhaps this will be the winner for me.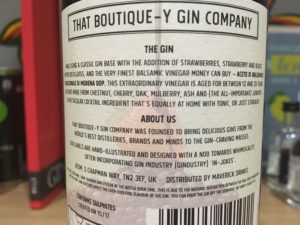 Opening my bottle and it definitely smells like a very rich balsamic vinegar. There is a slight sweetness to the nose which presumably comes from the strawberries. It does not smell like gin. Or very good. For some reason I had it in my head that it would be viscous like a balsamic, but it's not. But it is a dark brown colour in the glass, and very heavily perfumed – you can smell it across the table. Diluted with a splash of water and it develops into a richer, heavy port like smell. This tastes strange. The sweetness of the strawberries is far more obvious on the tongue than it is in the nose, and I have to admit it doesn't taste as bad as I anticipated. Imagine you've watered down a blended blackcurrant throat lozenge – it's jammy and fruity with a mentholic after taste.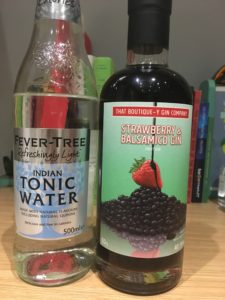 Diluted with a touch of Fever Tree light – I've erred on the side of caution and changed up my usual 1:1 ratio to 1:2 to tonic. I have to say, the tonic definitely helps. It loosens the flavours to make it less intense, but it retains the deep red fruits characteristics. The balsamic comes through more on the nose as you lift the glass to your face. Adding another measure of tonic again brings this closer to drinkable, it's reminiscent of a very intense Pimms/Summer Cup. I can picture this working in the summer in a tall glass filled with ice and tonic and a strawberry garnish. I am not massively into the pink gin craze that swept the nation last summer, and this feels like a grown up version of this – if pink gin met port. It is growing on me. But I think after this one I am done.
You can get yourself a 50cl bottle of the gin from Master of Malt for £29.95 (at time of writing). Now, if port is your thing, then this is good value. Personally, I won't be rushing out to buy a bottle, but I will certainly spring it on guests as a welcome cocktail when I host my first BBQ this summer. You can find TBGC on Facebook, Twitter and Instagram.
Have you tried TBGC Strawberry & Balsamico gin? Let me know your thoughts on Twitter and Instagram.