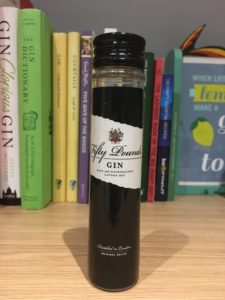 Fifty Pounds gin makes a bold claim. They say they are the "smoothest gin ever". Distilled in south east London, the award winning gin is made in a small distillery and they triple filter it to achieve this smoothness. You might have seen Fifty Pounds gin before, their distinctive bottle is based on the first gin bottles from the 18th century, labelled with the batch and year it was made – possible due to the producing batches of only 1000 bottles. They keep their recipe secret but are quite open about their botanicals: Croatian juniper, coriander seeds, Spanish orange and lemon peel, and African grains of paradise amongst others. These are placed in the still with their neutral grain spirit and some water, are left to macerate then they gently heat them for the five hour distillation process. This is left for a minimum of three weeks which they say allows the essential oils from the botanicals to blend into the grain spirit. The final step in reaching their 43.5% ABV is to mix it with their neutral grain spirit and some pure water.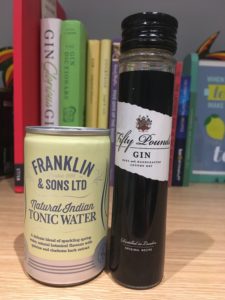 Opening my test tube and the juniper is obvious alongside something else that I frustratingly cannot work out. Slightly earthy, slightly mentholic. I can't work it out. In the glass with a bit of time to breathe and it does smell very smooth – almost like a high quality vodka there's not much aroma to it. Diluted with water, the pepper hits your tongue and it is, as they claim, incredibly smooth to drink. The pepper isn't overwhelming, the touch of citrus just balances it. I'm joined by the boy today and we're actually slightly annoyed that it is incredibly smooth. Very easy to drink, no burn from the alcohol but still enough kick to know you're drinking neat gin.
Mixing this with Franklin & Sons tonic and the sugar from the tonic has lifted this and made it taste a tad more generic and sweet. This would perhaps benefit from a low sugar tonic to allow the gin to shine through. It is incredibly easy to drink and there are remnants of juniper. To be honest, I'd almost think this was a vodka with the smoothness and I don't think you get all of the flavours from the botanicals. Is it bad? Certainly not.
You can get your hands on a bottle of Fifty Pounds gin from Master of Malt for £32.78 (at time of writing). I'd say this is a fair price for a 70cl bottle of something I would very happily drink neat. Far less alcoholic burn than a cheaper brand, but still quaffable. You can find Fifty Pounds on Facebook and Instagram.
Have you tried Fifty Pounds gin? Let me know your thoughts on Twitter and Instagram.