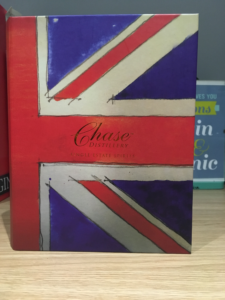 Because I am very lucky, I have lots of lovely friends and today I'm drinking Chase Distillery's GB gin. Chase Distillery came about after potato farmer William Chase had enough of supermarkets pushing up prices and feeling detached from his customers, so used his potatoes to make crisps. Tyrrells crisps to be precise. Whilst making these, he stumbled upon vodka made from a potato spirit, and thought that seemed like something fun to experiment with. Flash forward four years and they released their first batch of vodka. Ten years on, they have built a new distillery on their farm in Herefordshire making their own vodka, which in turn is the base for their gin. They use 10 botanicals to make their vodka shine, including juniper (obvs), cinnamon, ginger, almond, cardamom, cloves and lemon. Chase have a big focus on sustainability, they create energy from a bio-boiler using orchard prunings, their potato waste fertilises the fields and feeds their cows and grow many of their fresh ingredients themselves. So, how does it taste?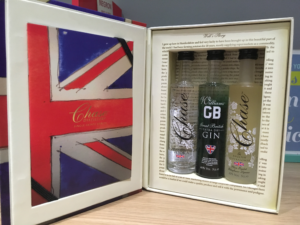 From the bottle there is plenty of juniper and you can definitely pick up the marzipan quality of the almond. In the glass, there's a vanilla richness and a slightly nutty note, but juniper is undoubtedly the key player here. Diluting this down with a splash of water really brings forward the almonds and juniper, there is a depth to it that makes me think the ginger and cinnamon and cloves are working in the background to bring an earthy characteristic to it. On the tongue this is very easy to drink. Slightly too easy some might say. There's warmth, there's juniper, and there's a smoothness. The heat of the ginger is on the front of the tongue, but only briefly and not too intense, it gives your mouth a tickle before fading away to a warmer sensation. There's something mentholic about the mouthfeel, as if there's been some fennel added to the process.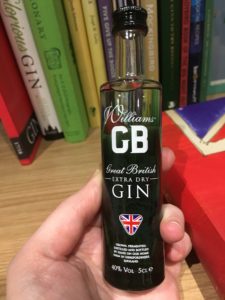 Mixing it with some Fever Tree light and it's a lot brighter and zingier all of a sudden. The lemon makes a grand appearance that wakes you up and leaves a sharpness in place of the previous warm notes. The lemon is grounded still, but it is much more subtle than before. It keep the pine from the juniper, but the botanicals work well together to create a good balance and mix of flavours. Overall, a pretty solid gin I don't think you can go wrong with.
You can get your hands on a 70cl bottle of the 40% gin on Master of Malt for £29.33 (at time of writing). They have the advantage of mass producing which helps to bring the price down, but this is certainly more than your average gin. You can find them on Facebook, Twitter and Instagram.
Have you tried any of the Chase range? Let me know your thoughts on Twitter and Instagram.