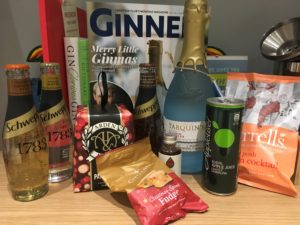 As per the last two years, I've received my Craft Gin Club delivery in December. Due to the daily blogging for Ginvent, I then never get to try it until after Christmas. But here we go; this month's delivery contains an exclusive collaboration with Tarquin's, one of my favourite distillers. I've tried many over the four years I've been writing, too many to list here but feel free to have a search back, and never have I been disappointed. This edition is only available to Craft Gin Club members and was distilled using a whopping 18 botanicals including Tarquin's staple violet alongside Christmassy botanicals nutmeg, star anise, ginger and allspice. There's also plenty of citrus fruits and tonka bean to bring a mulled fruit note to balance the zest and marzipan.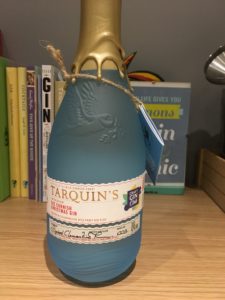 Opening up my beautiful frosted bottle and there's definitely a whiff of Christmas to it, but it's not overpowering. Hints of spice and currants, but quite subtle and mellow. In the glass you can get the sharp, zestiness from the grapefruit peel alongside the pine from the juniper. Adding a splash of water allows the aromatic violet to come through and the citrus develops to the fresher, orange end of the spectrum. Sipping it neat and the juniper and citrus combination gives it a taste of cleaning product – not altogether bad but it's not brilliant on first sip. There are hints of warmth from the allspice and a touch of sweetness comes in from the tonka bean.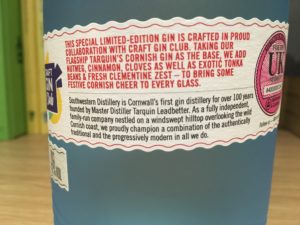 Mixing it with some Fever Tree light tonic and diluting it down allows the flavours to relax slightly – that does not mean they go away, oh no. They are there, and potent, just less cleaning producty. You get citrus on the tongue followed quickly by a peppery spice that lingers, with a slightly mentholic taste – breathe in and your mouth tingles. There's a warmth at the back of the throat but it is gentle and fades quite quickly. Personally I prefer this with tonic as it makes it easier on the palate; whilst I love Christmas I'm not the biggest fan of the flavours of Christmas so the tonic eases these out a bit and makes it more drinkable. They suggest adding a garnish of an orange wheel (nope) and a cinnamon stick which I worry will amp it up too much for me, I'm quite content with it as it is.
You can't get your hands on a bottle of this, but you can find most of the Tarquin's range on Gin Kiosk. You can find Tarquin's on Facebook, Twitter and Instagram.
What's your favourite from the Tarquin's range? Let me know on Twitter and Instagram.