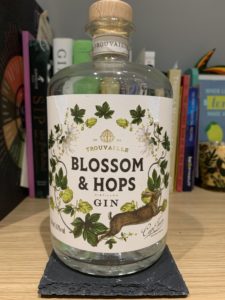 Blossom & Hops gin, I think, is the first South African gin to find a place in my collection. Hailing from the suburbs of Cape Town, creator Tim James had to put a lot of work into his gin. In South Africa, you have to have your distillery built and ready to go before you can get your distilling license, so they distil offsite at the Hope Distillery. Tim wanted to make a gin using hops flowers, an ingredient not often seen but was featured in old Genever recipes, and he and his partner Teresa worked to incorporate this into a modern London dry gin. Mostly used in beer, one of my favourite gins from England – actually not too far from me – Mayfield Sussex Hop gin also features this botanical so I am interested to see how it compares. Their hops are complemented by lime blossom, lime leaves, juniper and coriander, but they say this results in a juniper forward gin. So, let's see how it tastes.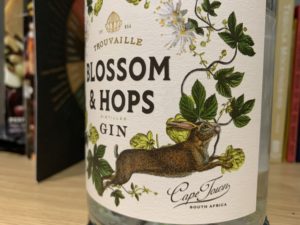 Opening the cork on my stout bottle and it smells very minty; Mayfield Hops gin has quite a beery, earthy taste to it and this is very light. In the glass, you get that strong aniseed smell coming through, that turns herby with the addition of water. On the tongue, you do get a richer mouthfeel than usual. I wouldn't describe this as juniper forward, but the pine is recognisable at the end, rather than being up front. You do get hints of lime, that rich, juicy end of the citrus spectrum.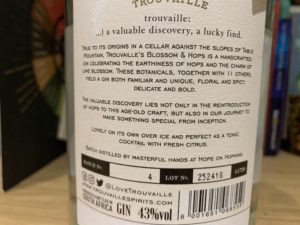 Mixed with light tonic and it all starts to balance out. You still get some sharpness coming through from the lime, but it keeps that invigorating sensation on your tongue. Underneath there is a definite earthy tone from the juniper, but it's quite sweet. I went to a South African gin night at Gin Foundry last summer and wasn't a fan as they tend to add a lot of sugar. I don't know about this gin's sugar content, but it's certainly sweeter than I would generally expect (and like) from a gin.
I've had a rummage and unless you live in South Africa, it seems pretty tricky to get your hands on a bottle. Prices seem to vary from £23 (buying in South Africa) to £45 (from a Swiss website) but I can't find any delivery to the UK. You are able to find them on Facebook, Twitter and Instagram though, so it's not all bad.
Have you tried Blossom & Hops gin? Let me know your thoughts on Twitter and Instagram.