Note: James from Zeiver gin got in touch and offered to send me a bottle, as always I'll let you know what I really think.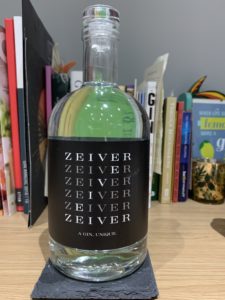 Zeiver gin gets my attention for two reasons. One, the monochromatic label, and two, the key botanicals are peach, pistachio and aloe vera. Part of me is intrigued, part of me is nervous. Launched earlier this year, Zeiver gin is a collaboration with Dr. John Walters (who is fancy and has a doctorate in biochemistry) and is the first spirit from the English Spirit Distillery based in Essex. Taking inspiration from Japanese spirits, their bespoke base spirit comes from polished rice which they say gives it an "ultra-smooth" palate. Alongside the three aforementioned botanicals, they also use the more traditional juniper berries, limes and grapefruits, plus apple, cherry and macadamia nuts. They describe their gin as "pure, straightforward and sincere" – indeed their name comes from the Dutch for pure – although I'm not convinced the botanical list embodies this, but let's give it a go and see what we think.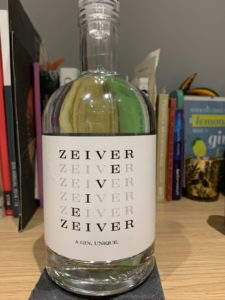 Opening my glass cork (James sent me some great advice, put it in the palm of your hand and rock it forwards like a gear stick which works a treat) and the smell that comes out of the bottle is very rich, the juniper is prominent with a hint of citrus. So far so good. In the glass, the nuts seem to be adding a hint of vanilla, and currently not getting too much fruit on the nose. Adding a splash of water allows the softer notes to come through, with a touch of crisp apple on the edges. On the tongue it is surprisingly peppery and mentholic, given the list of botanicals I wasn't expecting this. I was worried it would be quite sweet and fruity, but it's very gin-like. It has quite a slow finish, leaving your mouth tingly and refreshed for a while afterwards.
Mixed 50/50 with Fever Tree tonic and the flavour changes quite dramatically. Much less pepper and heat, instead you get more of the nuts coming through in the mouthfeel as it's quite creamy, alongside some lighter fruit. I'm not trained enough to be able to guess the fruit, but knowing there is peach in there makes me think of that. Juicy, but not jammy, and full of flavour. Do I know what aloe vera adds to this? No. Does it massively matter? No.
You can get your hands on a 70cl bottle of the 47% gin from The Gin Stall for £41.95 (at the time of writing). This is definitely at the top end of what I would pay for a bottle of gin, and there is something eye catching (mouth catching?) about it. It is different, it certainly packs a punch, and adding a splash more tonic makes it a little bit more palatable as it ekes out the flavour a bit. You can find Zeiver on Facebook, Twitter and Instagram.
Have you tried Zeiver gin? Let me know your thoughts on Twitter and Instagram.