Note: This post contains affiliate links marked as [Ad], if you click on this and buy a bottle of gin then I will receive a small commission.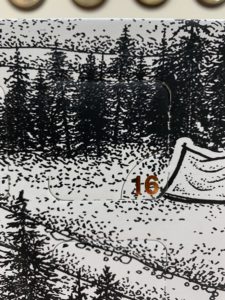 Back in June when I went to Junipalooza and had the best time, I had a chance to briefly meet York gin. One of those gins that everyone raves about based in, you guessed it, the city of York, they are the only distillery in the city and hand make all of their gins. They have four gins to their name: the London Dry which uses nine botanicals including black pepper, lemon peel and grains of paradise and this year won silver at the San Francisco World Spirits Competition; the Roman Fruit inspired by their Roman ancestors which is infused with apples, berries and hibiscus; and the Outlaw gin which pushes the ABV up to 57% and incredibly won a double gold at San Francisco this year which is not an easy thing to do. The fourth gin is the one we are trying today, the Old Tom gin. Now, if you know me, you know I love an Old Tom gin. This is made in collaboration with Michelin starred restaurant Star Inn and uses botanicals foraged from the local area and the restaurant's garden including the White Rose of Yorkshire, bronze fennel and star anise. So, how does it taste?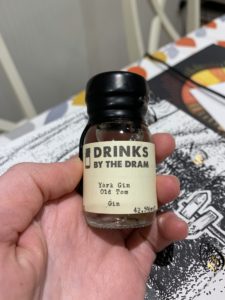 Cracking open my dram and you get a surprisingly woody smell for an Old Tom gin, the fennel smells very appealing. The fennel opens up in the glass alongside some warm notes (hello star anise) and a sweetness that is more like a dark muscovado sugar. Neat on the tongue and the fennel is the most prominent botanical before the peppercorns sweep in; again it is strangely not that sweet for an Old Tom gin. It is much earthier than anticipated and makes me think this would work in a negroni (which is not a cocktail I would associate with this type of gin). Diluting it down with some water helps lift soft citrus notes and bring it into a better balance.
A tiny dribble of tonic suddenly brings the sweetness to the front, but at the back of the mouth it still has a load of methol. It's interesting how completely this changes from neat, to with water, to with tonic. As this is earthier than I expected, I have made a teeny negroni and using Cocchi vermouth it is very deep and warming and earthy – I think if you wanted to enhance the sweetness you'd go for a Martini pairing.
You can get a 70cl bottle of the 42.5% gin from Spirits Kiosk [Ad] for £41.95 (at time of writing). To be honest, this is a very different Old Tom than I am used to. I wouldn't guess it is an Old Tom gin, maybe more a spiced gin. You can find York gin on Facebook, Twitter and Instagram.
Have you tried any of the York gin range? Let me know your thoughts on Twitter and Instagram. Catch up on the last two weeks of Ginvent here.