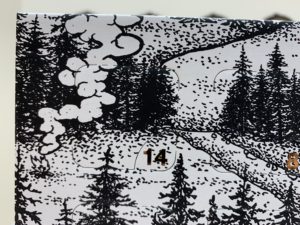 Today's gin is one you might recognise. Caorunn gin is widely available in supermarkets and bars – first time I had it was in a Wetherspoons (FYI, having it with Mediterranean tonic and garnished with an olive and some rosemary is great). Made in the Scottish highlands with 11 botanicals – six traditional and five locally foraged – Caorunn means rowan berry, which (funnily enough) is one of their local botanicals. They also use bog myrtle (sweet and resinous), heather (honeyed and perfumed), Coul Blush apples (crisp and clean) and dandelion leaves for a touch of sharpness. As well as this gin, they have launched a Highland Strength edition – taking the current 41.8% ABV to 54% – and today's gin, the Scottish Raspberry gin. Using raspberries from Perthshire, this gin could easily be compared to the huge number of pink gins that have flooded the market recently. Caorunn decided to join the fruit gin trend quite late, but have avoided the pink colour. The sweetness of the berries is distilled in their unique copper berry chamber which allows the vibrancy of the fruit to come through, but without the colouring. So, how does it taste?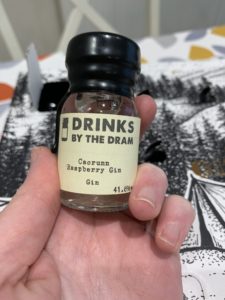 Opening my bottle and woah, that is a lot of raspberries. But, on the plus side, it is REAL raspberries. You know that thing when you buy a punnet of fruit and don't quite finish it and the ones at the bottom get a bit pulpy? It's that kind of smell. This doesn't change in the glass, very much raspberry through and through. A sip of it neat and it isn't as sweet as I anticipated. Yes, it tastes like raspberries, but you still get a nice pine hit along with honey, fennel and something peppered and spicy. A dash of water calms the raspberries down a bit, and brings more of that lovely honeyed, floral sense to the drink. It reminds me a lot of a picnic in a movie (because real picnics are never perfect), I want to pair this with some prosecco and eat cake in a field. It feels wrong to drink this in the dark and cold winter, but I can see this working perfectly in the summer.
Adding some tonic water helps to bring the ripeness of the fruit down to a jelly sweet level, it tastes slightly more artificial when you add tonic over neat or with water. You get some really fun sherbet notes, and whilst I don't hate it, I don't think it is the one for me. As an arrival drink at a BBQ, sure, but one is enough sugar for me – I'm using light tonic and after a few sips I want to go clean my teeth.
You can get a bottle of the raspberry gin from Gin Kiosk for £21.40 (at time of writing). The price point means it will be popular with a lot of people (although I guarantee people won't look at it because it isn't pink), and if you like flavoured gins then it might be for you. For me, it's just not gin-ny enough. You can find Caorunn on Facebook, Twitter and Instagram.
Have you tried Caorunn gin? Let me know your thoughts on Twitter and Instagram. Make sure you keep up with all things Ginvent here.