Note: This post contains affiliate links marked as [Ad], if you click on this and buy a bottle of gin then I will receive a small commission.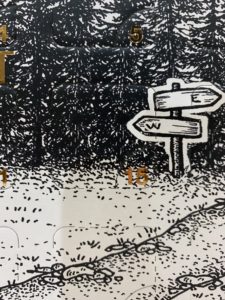 If you know me, you know that I am a big fan of Hayman's gin. The people behind it are lovely, the gin is great, it has a real history and it is also incredibly affordable. If you're interested you can read all my thoughts about their dry gin, their Old Tom gin, their sloe gin, and their navy strength Royal Dock gin. Today we are drinking their new addition to the family – the Gently Rested gin. Taking inspiration from the Gin Palaces of the 1800's, when gin was sold from cask barrels rather than bottles, they rest this gin in old Scotch whisky barrels for three weeks. The barrel resting trend seems to be on the rise in the gin industry – and Hayman's are clear to say that they aren't ageing the gin, just letting it sit there and imbibe some of the flavours. The time in the cask allows the gin to take on a spiced note which complements the existing juniper and coriander. They suggest pairing it with cheese (urm, YES) and instead of tonic, using ginger ale to amp up the peppery notes. So, how does it taste?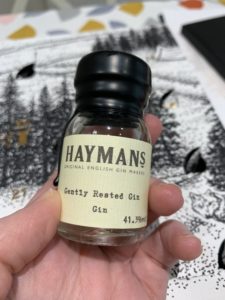 Before I open my dram, it's worth noting that despite sitting in whiskey barrels, the gin is still clear and hasn't taking on any of the colour that I would usually associate with this category. On the nose you still get the juniper straight away, in fact I'm not getting any notes from the scotch barrels. Currently it smells like a classic gin. In the glass, you can start to pick up a hint of honeyed sweetness and a touch of pepper, but I'm thinking this gin is going to come through more in the mouth. At first sip you get those pepper notes shining through, bright at first before calming down to a more woody note, waking your mouth up with lots of fennel. It has a surprisingly slow finish, the resting in the wooden barrels help to give a complexity to the flavour that draws you in and keeps your tongue tingling. Adding a splash of water brings a lovely oily look to the glass and rounds out the pepper to make it more evenly balanced, it's gentler at first but still has a slow build that really sticks around.
A splash of tonic allows some citrus to appear, the pepper is dialled down but still washes across your tongue along with more of those sweeter, honeyed notes. If I didn't know it had sat in barrels I wouldn't have guessed it. This is why I love Hayman's. They know their gin is great, and they don't want to completely change the flavour by ageing it in barrels, they simply want to enhance the flavours and add layers of complexity to it.
You can get a 70cl bottle of the 41.3% gin from Spirits Kiosk [Ad] for £31.95 (at time of writing). As usual, it's very good value for such great gin, but personally I don't think it is different enough to make me pick it over their classic London Dry or the Royal Dock navy strength gin. You can find them on Facebook, Twitter and Instagram.
What do you think of Hayman's gin? Let me know your thoughts on Twitter and Instagram. Keep up with the last two weeks of Ginvent here.