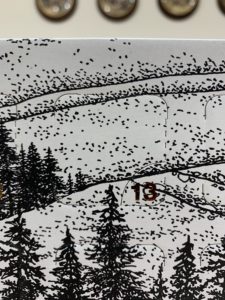 One of the boldest bottles on show in the Newcomer's zone at Junipalooza was today's dram, Sandhills gin. A big, bright yellow bottle certainly stands out and draws your attention in. Husband and wife team Jeanette, plus long time family friend Brian, take a scientific approach to making their gin. They distil the 'heavier' botanicals such as juniper and coriander in a traditional copper pot still before blending it with their cold vacuum distilled 'lighter' botanicals. Vacuum distilling allows them to capture the softer notes from ingredients such as gorse flowers, Douglas fir, yuzu peel, Tasmanian pepper berry, dandelion root, and local honey. Located in the Surrey countryside (a 34 minute drive from where I grew up, just saying), the area is covered in gorse and heather which attract the bees, making the local honey used to sweeten the gin, the hives sponsored by Sandhills gin to support the colony. Their spring water comes from their own bore hole drilled 65m deep to ensure purity, and as you might guess, this distillery has an ethos of sustainability. Any waste from the production is recycled (where possible) and a percentage of their profits go to charity – split between CountryMice (a local charity providing end of life care) and Clockhouse (a project aiming to end loneliness with activities, healthy meals and the opportunity to meet new people).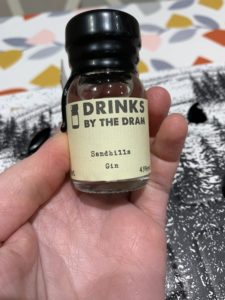 Opening my bottle and you do get a sense of wildflowers plus the rich sweetness from the honey. In the glass (I'm definitely getting better at pouring small measures) you can start to pick out some pine notes and some green, leafiness. A sip of it neat brings that floral tone to the tip of your tongue before the pepperberry kicks in with a burst that lingers just for a second, before it fades away. A dribble of water makes the spice more apparent from the beginning, but doesn't drown the intensity at the end as well as bringing in some citrus just round the edges.
A hint of tonic allows you to see the oils in the glass, and if anything makes the pepper more vibrant. The juicy citrus really comes through and makes your mouth water, balancing the dryness of the juniper. There is such complexity to the flavour and so many layers to enjoy, this is the kind of gin you want after a rubbish day when you just need something bold to revitalise you whilst you take a few minutes to breathe. Having already anticipated this moment, my tiny measures mean I can make a very small negroni with the remains. I've used Martini Rosso as I find it a bit sweeter and through it would complement the honey – which it has. The pepper dies down but works well with the bitterness, which is bought into balance by the sweetness. It's a tad too sweet for my liking, but I think this would be a good negroni for new comers.
A 70cl bottle of the 43% gin is available from Gin Kiosk for £41.90 (at time of writing). I do like this, but this might be a touch on the expensive side for me. You can find Sandhills Distillery on Facebook, Twitter and Instagram.
Have you tried Sandhills gin? Let me know your thoughts on Twitter and Instagram, and make sure you don't miss out on all things Ginvent!