Note: This post contains affiliate links marked as [Ad], if you click on this and buy a bottle of gin then I will receive a small commission.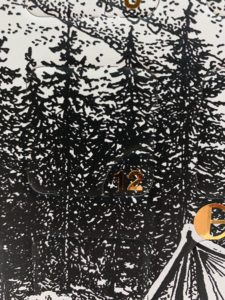 As we head reach the halfway mark we try one of the newbies to join this year's Ginvent fun. Downton Distillery won the bursary slot at the 2019 Junipalooza festival and had one of the most decorated stands ever. Which is just as well really as they have one of the most beautiful bottles currently on the market. Downton Distillery take their name, not from the TV show, but from Downton Manor in Wiltshire which once belonged to Queen Elizabeth I until she gifted it to Sir Walter Raleigh. For those not as clued up with their history, he helped colonise America and sailed to South America for the search of 'El Dorado'. In a barn adjacent to the manor house, the gin is made with more than a nod to this jet-setting history. They use botanicals from around the world, for example; the juniper is from Tuscany, pink pepper from Brazil, bay leaves and signature botanical red cedar from their own estate, szechuan pepper from Asia and grapefruits, lemons and lemon verbena from the Mediterranean. These are first macerated (soaked) in their base spirit before vapour distilling the gin with fresh botanicals, finally they add their spring water that travels down from the New Forest and though the Wiltshire Downs. I had a sample of this back in June so I'm excited to revisit it, so let's go!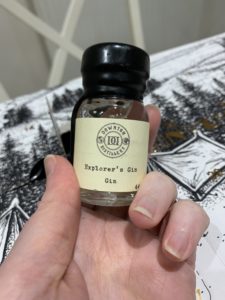 Opening my bottle and a big sniff fills you with pine, pepper and citrus. There's definitely something rich and leafy in there, and that pink pepper shines through. In the glass it opens up to change the leafy notes to a mint type smell, grassy and rich. A sip of it neat and it's a combination of minty toothpaste, and sherbet sweets. A tartness comes through from the grapefruit, and it has a long, mentholic finish. A dribble of water brings this together and tones the menthol down and the lemon verbena changes to a herbal note.
Adding a splash of tonic and the citrus comes into its own. It is bright and refreshing, but has a woody undertone to it that gives it a sap-like thickness. I love this gin; the combination of the fresh and the earthy. I can't think of a gin to compare it to. Yes, I didn't love it neat, but it makes a stonking good gin and tonic.
You can get a 70cl bottle of the 44% gin from Spirits Kiosk [Ad] for £40.45 (at time of writing). Honestly, I think it's worth it. I think this is a pretty unique gin in a crowded market place. You can find Downton Distillery on Facebook, Twitter and Instagram.
Keep up with all the Ginvent fun here, and let me know your thoughts on Downton gin on Twitter and Instagram.