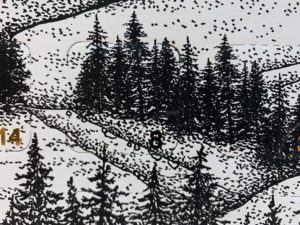 As we enter week two of Ginvent, we start with something special. We were lucky enough to get tickets to an evening with Capreolus Distillery at Gin Foundry HQ as part of their Summer Series and it was eye opening. Barney, who can talk more than I can, introduced us to his extensive range of products, starting with their most recognisable Garden Swift dry gin, before we moved onto some of the aged gins and eau de vies (which is an incredibly big collection). Today's gin is from their rare Hart & Dart gin, so good it gets it own name rather than just a barrel aged edition. They start with the Garden Swift gin (which, FYI, came about by hundreds of individual distillations and blends to ensure they were getting the exact mix they were looking for), known for it's bold fresh Sicilian orange and British lime leaves is then aged in rare mulberry wood barrels. This gin is released in single batches which each has it's own character from the wood – mulberry adds a sweetness, a spice note and a hint of florals. This sweetness, they say, brings in notes of apricot on top of the 34 carefully picked botanicals already in the gin. They also recommend it in place of an Old Tom gin in cocktails (due to the sweetness), or in a classic negroni thanks to its complexity. So, how does it taste?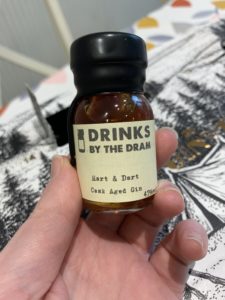 In the bottle you can clearly see the amber colour that has been taken on from the wood barrels. Opening my sample and the wooden quality shines through, it's like a very gentle whiskey. It is slightly spiced and has an almost nutty aroma to it. Pouring it into a glass allows the smell to open up and it has a real kick to it which knocks out any of the gentle floral notes, but you get the citrus and juniper coming through. On the tongue you get a lot of flavours at once, deep pine from the juniper followed by a rich caramel towards the end. You can get a hint of that juicy fruit lurking in the background, and I fully agree with their thoughts on this being great in a negroni. Less convinced by the idea of replacing an Old Tom gin as I don't get too much sweetness from this. Today I'm copying Rev. Mary who is my gin guru (check her out on Twitter!) and I've split my sample into teeny tiny portions. Adding water to the first softens the wooden notes until it hits the middle of your tongue when it appears suddenly and quickly, filling your mouth with that rich, oily texture.
Adding tonic to my second portion brings the colour to a beautiful straw yellow and helps balance the flavours. The citrus comes forward along with those ripe fruit tones, toning down the smokiness from the ageing process. I think adding tonic helps to make it transcend a dark winter night to become lighter and more drinkable in the sunshine. Teeny tiny drink three pairs the gin with Campari and Cocchi vermouth and this is incredible. It really brings out the jammy quality (a while ago I made a negroni using Four Pillars Bloody Shiraz gin and it had that same feeling).
You can get a 50cl bottle of Hart & Dart (which is 47% ABV so not one for the faint hearted) from Gin Kiosk for £49.40 (at time of writing). I think if you like barrel aged gins (which I am slowly learning to appreciate, but they aren't for everyone) this is great, or if you want to change up your negroni game. However, it is pretty pricey, but for good reason. You can find them on Facebook, Twitter and Instagram.
Have you tried any of the Capreolius range? Let me know your thoughts on Twitter and Instagram. Keep up with the Ginvent fun here.