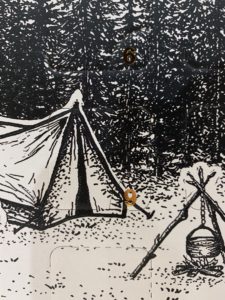 Happy Monday! For today's Ginvent we revisit Tappers gin – last year we had a dram of the Darkside gin and this year is their Wintergreen edition. The Tappers range come in beautiful bottles – you know I'm a sucker for good branding – and have a lot of iterations considering they launched in 2016 up in the Wirral peninsula. They are a brand that mean small batch when they say it; their botanicals are sourced as locally as possible and they only produce 40 bottles at a time. This gin was the second in their range to be released, back in October 2016, and is inspired by the range of plants that stay aromatic in the wintertime. As their gin is compounded (made by adding the botanicals to the base spirit with no distillation after this point), it has a natural tinge to it from the juniper and the remaining botanicals – spruce needles, cassia bark, birch bark and meadowsweet (plus five more secret ingredients). They say it has the crisp taste of a winter's day, let's find out shall we?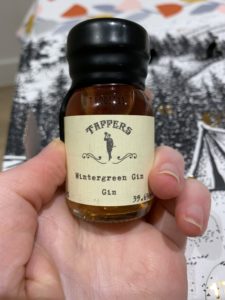 Before even opening my dram you can see the deep burnt orange colour from the bottle, and this makes it confusing on the nose, the colour makes you anticipate rich woody notes, but instead you get a very medicinal pine alongside a hint of something like bitter black coffee. Opened up in a glass, the pine recedes to allow hints of caramel and that leafy meadowsweet to shine through. Neat it is surprisingly soft before a cooling menthol fills your mouth, whilst the warmer gin fades quickly, that menthol really hangs around. It has notes of maple syrup, a sticky sweetness, and a truck load of "woodland" – honestly that's the best I can do. Imagine walking in a woods on a really crisp day – the juniper, spruce, birch and foliage all melding into one big flavour. A second and third sip allow you to look past the menthol and allow some very gentle cinnamon spice, becoming very Christmassy in flavour.
Adding a splash of tonic and it is at first sip very pleasant, but leaves a slight cloying taste at the back of your throat. Once you get past that, the warming spices shine through and make me think that mixing it with ginger ale and served slightly warm would be a perfect fireside beverage for a cold evening. The sweetness allows it to not be too heavy or deep, so served cold it is very refreshing. Making a tiny negroni, I'm not super convinced. The sweetness works well against the bitterness of the Campari, but that menthol flavour is still lurking like an unwelcome shot of mouthwash. I enjoyed this as a G&T but it's not one for me in a negroni.
You can get a 50cl bottle of the 39.6% ABV gin from Gin Kiosk for £38.90 (at time of writing). I'm not so in love with this that I'd part with my money for it. If you like to go big on your Christmas flavours then it's one for you, but it's not a winner for me today. You can find Tappers on Facebook, Twitter and Instagram.
Have you tried Tappers gin? Let me know your thoughts over on Twitter and Instagram. Keep up with the Ginvent fun here.