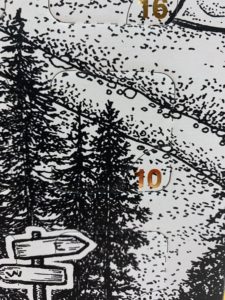 Day ten of Ginvent brings us a gin from a team based in Perth, Scotland, but distilled down in London. Bright Spirits are certainly not the only company to distil off site, and for a team that started in 2018 they already have three gins to their name. The first, Pips, is designed to be a taste of summer – strawberries, raspberries and blueberries along with pineapple and citrus peel. The second, Peels, is (as you might expect) bursting with citrus – lemons, key limes, yuzu and grapefruit. The third and the one we are drinking today is Roots which they say is "spicy, warming and earthy" utilising ginger, grains of paradise, galangal root and cardamom amongst others. As with all of their gins, all flavours are distilled in tthe gin and no sugar, artificial flavourings or syrups are added after this. They say this finishes in your mouth like a Dark Jamaican ginger cake. I'm a big fan of ginger cake, so let's see how this tastes.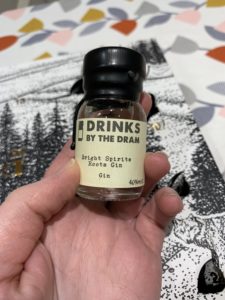 Today's sample is crystal clear and you get a lot of cardamom and ginger as soon as you take the lid off. It's super fresh, as if you are making a curry and have some grated ginger and crushed cardamom pods right in front of you. On a second sniff, you do get that familiar pine freshness of juniper which balances the earthier notes. In the glass, the two blend together to make a more coherent aroma, which also allows a bit of pepper from the grains of paradise to make an appearance. Sipping it neat and you definitely get all that warmth and spice as the shining star here. The juniper is still there with it's resinous undertones that mean the spice isn't feeling too much. It's very gentle, like a cuddle for your mouth. I don't think it currently has the sweetness of a ginger cake, it's very dry but the flavours are pretty spot on.
My first instinct is to up the ginger by adding some ginger ale but for consistency I'm going with Fever Tree light tonic which has helped to bring forth a touch of sweetness on the nose. The spices are dampened down by the tonic unsurprisingly, but it retains the curried characteristics. I didn't add much tonic but think this has slightly drowned out the bright flavours. On the other hand, this brings out a slight citrus edge and think a piece of lemon peel would go down a treat here. Making a tiny negroni (as is apparently now tradition) and I think it works quite well. It's not as bitter as usual and the earthier notes work well with the fruity vermouth, ending with a dark muscovado sugar feeling. Which, is basically what ginger cake tastes of. So maybe they weren't that far off after all.
You can get a 40% ABV bottle of Roots gin from the Bright Spirits website for £36.95 (at time of writing) for a 70cl bottle. You can find Bright Spirits on Facebook, Twitter and Instagram.
Have you tried Bright Spirits? Let me know your thoughts on Twitter and Instagram, and don't miss a day of Ginvent here.