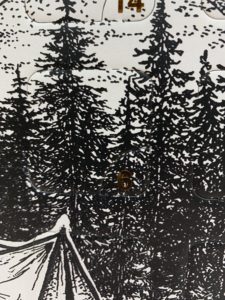 Today's gin is becoming a staple in the Ginvent calendars; in 2016 we tried Slingsby gin, in 2017 we tried their rhubarb gin, and today we try their gooseberry edition. A proud Yorkshire business, Slingsby gin started in 2015 and since their launch have developed six spirits in their main collection. Alongside the two we have already tried, they have a navy strength gin, a marmalade gin and a vodka. The gooseberry gin, in a beautiful green bottle, still uses their famous Harrogate water alongside their base spirit and locally sourced botanicals. Their Yorkshire-grown gooseberries are packed with vitamin C (so this is good for you, right?) and impart a burst of sharpness, that they say is balanced by the sweet citrus of their classic gin. So, how does it taste?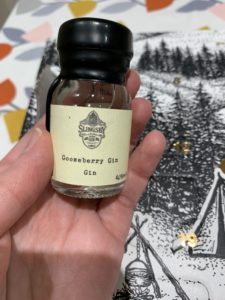 In the bottle it instantly smells tart and crisp like a crunchy (but juicy) green apple. Not getting lots of juniper at the moment, but let's give it a chance. In the glass it is certainly fruity, which honestly isn't what I really look for in a gin. It's smelling quite sweet and ripe, and I do prefer a drier gin. A sip of it neat and it is surprisingly tangy at first, before the softer fruit notes come through as it finishes. It is piquant and fresh, so I'm not hating this as much as I thought, although I wouldn't guess it was a gin instead of a liqueur. This gin enters the territory of the "is it really gin" debate – by law gin must be predominantly tasting of juniper, so where does a flavoured gin (legally gin due to the ABV) sit?
Adding a dash of tonic and this lengthens out a bit, making it less dense in flavour and the gooseberry is more enjoyable and less sour. It's almost like a sharper elderflower, very refreshing and I can see this being delightful as a long drink in the summer sat in the sunshine. I'm still not getting any juniper through, but I am impressed with the vibrancy they have achieved with the gooseberries.
You can get a 70cl bottle of the 40% ABV gin from Gin Kiosk for £39.90 (at time of writing). Personally it's not my taste, but if you like a flavoured gin then this is definitely done well and crams in a lot of flavour. You can find Slingsby on Facebook, Twitter and Instagram.
Have you tried Slingsby gin? Let me know your thoughts on Twitter and Instagram. Keep up with the Ginvent fun here.