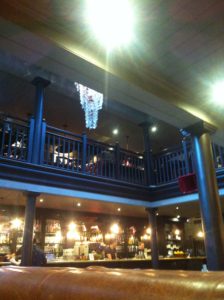 After seeing Jess and Josh Cook's Instagram photo of their burger fest at No. 32 Duke Street, I decided it was time to drag everyone along with me for all the meat. We arrived just after 6pm on a Tuesday and it's pretty empty. As in there are two other full tables. The waiters are clearly bored and in 20 minutes we had four different waiters ask us if we wanted to order our drinks. We kept saying we were waiting for a friend but they did not get the hint. When Catriona finally arrived with her mangled foot (not as gross as it sounds) we ordered our beers. Our drinks arrived promptly then they seemed to stop caring and it took a while for someone to take our food order- one classic burger, a spicy burger and a Brie burger. All with chips. Obviously.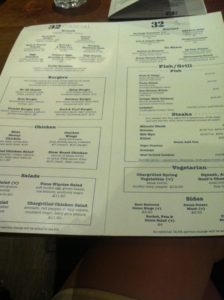 Because I'm lame I got really excited that their napkins are slightly better quality than usual. Feel luxurious but still rip-able and clearly disposable. But they feel like they might be reusable.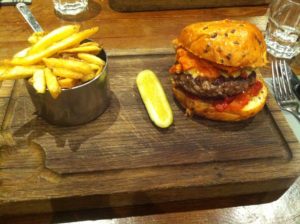 The food finally arrived and boy were the chips good (for two of us anyway). Not too crisp but not to soft and super salty. My spicy burger was, frankly, a disappointment. No hint of spice. It came with a huge amount of blue cheese that was particularly whiffy and yummy, kimchi that could have not been there and made no difference, and mustard mayo. The blue cheese overwhelmed everything – which isn't necessarily a bad thing, but it's not what I wanted or expected. I admit that I like super spicy food, which most places don't do as they have to cater to everyone. I get that. But don't call something spicy that has no spice in it. Pungent Burger might have been a better name for it. Nice bun though.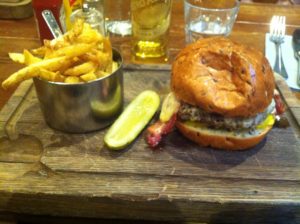 Catriona: "I ate the No 32 Classic with no tomato relish. The mustard mayo was an unpleasant surprise, but overall the burger was tasty! Until the last few mouthfuls. I found a bit of gristle in my patty and that, coupled with a greasy/fatty bit of bacon, I'm done. Chips were phenomenal though."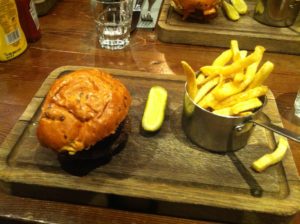 Lisa: "Brie burger was okay. Brie was all in one lump but lovely when you found it. Chips were okay but too salty."
So, all in all, a mixed bag. To sum it up, I would say it is fine. Whilst I won't be hurrying back for the best burgers ever (oh hey Coggings and Co), if I was in town and had a hankering for a burger, you could certainly go worse places (oh hey, JB's Diner). Burgers priced around the £12 mark with chips included is good in my books – I hate when you go places and they charge you £12 for your burger then an additional £3 for chips. Beer is well priced – a bottle of Brooklyn Lager was £4.50 which is, sadly, about right for the tiny bottle. On a weekday they also do a burger, chips and milkshake deal for £10 which is a bargain.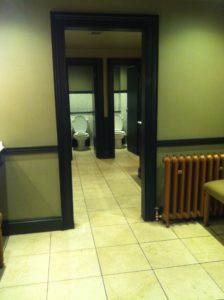 They also have insanely huge toilets. I thought there was a mirror in the middle, it wasn't. It was more toilets. Well done team.
So after our burger and beer fest, we pootled off to watch Suicide Squad feeling that perfect level of full – not hungry but also not so full you can't move.
You can find No.32 on Twitter, Facebook and Instagram and don't forget to give me a follow for ramblings and photos.