This Easter weekend, Catriona, Lisa and I spent a few days in Dublin. And boy were we busy. We also listened to a LOT of Irish pop music, if you fancy listening along whilst reading you can listen to my Spotify playlist here (yes, it is mostly Westlife…):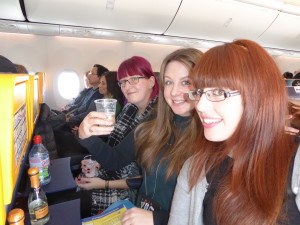 On Wednesday we got up at 6:30am (not too horrific) and we made the lengthy (30 minute) trek to Gatwick. We had some reservations as we were flying the day after the horrific and pointless bombings in Brussels, but everything was absolutely fine. Not even an increase in police presence. After a short flight and a downed prosecco (the drinks trolley took a bloody long time to get to us!) we landed in the Emerald Isle and headed to Abigail's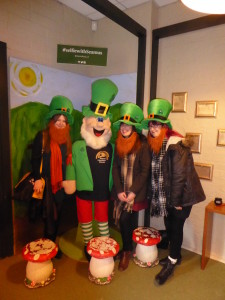 Hostel on the river Liffey. Dumping our bags we headed out to explore. After a wander to Trinity College and through Temple Bar, we ended up at the Leprechaun Museum. Short but sweet, the museum is a 45 minute tour with a story-teller looking at Irish folk-lore such as leprechauns, giants, fairies and changelings (seriously, fairies are bastards). It gives a brief overview and not a huge amount of detail, but the giant's room is fun, the rainbow room is magical and don't forget to take a #selfiewithseamus. From here we walked around the corner to a random church Lisa had heard about. St. Michan's Church is similar to other churches, and is fairly unassuming until you go down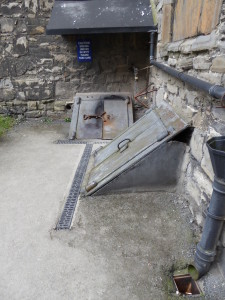 into the crypts. In there are four preserved bodies.  A combination of dry air (limestone walls), methane gas (leaking in from the ground) and a constant temperature has left their skin freakishly in tact. Totally worth €6. Just one road up from here is the Old Jameson Whiskey Distillery. Technically not a distillery any more since they moved production out to the countryside, but the tour looks at the process of whiskey making, slags off Scottish whisky and gives you some free drinks. Hurrah. I learnt that whilst I do NOT like straight whiskey, I am a BIG fan of whiskey, ginger and lime. Absolutely knackered we wandered back to the hostel for a wee rest before dinner.
Dinner that night came from Thai Orchid, just opposite Trinity College. Great food, fairly shoddy service. Yes the waitress seemed to be running the place on her own, but she did so with a grumpy expression, no apologies, told a customer off for seating himself after she ignored him and ignored me after I tried to ask for the bill. The food however was pretty damn good. My prawn Singapore noodles were nice and fresh, Lisa's cashew stir fry had one of the best sauces I've ever tried and Catriona was delighted to find extra tofu in her chicken pad thai (vom). After a little walk, we ended up in a pub with traditional Irish dancing which was fun to watch. Luckily we were tired and pretty sober so we didn't try to copy them/embarrass ourselves!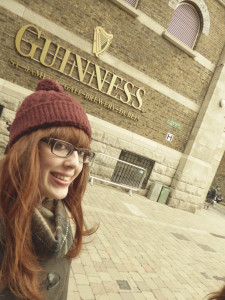 Day two started with our free breakfast – we seriously would recommend this hostel, who doesn't love free toast? – before we decided to wander down to the Guinness Storehouse and Kilmainham Gaol (points to any non-Irish folk that can pronounce that!) On the way we got distracted by the Castle (not very castley) and the Windmill (definitely not a windmill) then we popped into Guinnessland to buy our tickets (via a few photos in front of the Guinness signs). We eventually got to the Gaol via my scenic route (stupid vague map) at midday to find the queue would be at least an hour for a tour that was at 3pm. Nope. So instead we went to the pub opposite for some lunch (priorities). Two bowls of sup and a pulled pork bun later, we went back to the Storehouse for a super fun afternoon. For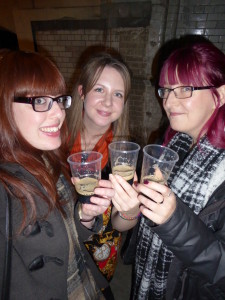 people who actually like being educated in museums and stuff, the first few floors provide insight into the brewing process and the history behind the company. Then you get a sample of their Porter, a mini pint of Guinness in the tasting rooms (breathe in through the nose, take a sip, swallow, out through the nose then the mouth). On floor 5 is the best part, after enjoying all of the selfie opportunities with the various advertising models, you exchange part of your ticket for a masterclass in pouring the perfect pint. Pint in hand you can head up to the Gravity bar on the seventh floor for panoramic views of the city. In theory. In reality it's a bar RAMMED with people so you can't get near a window so you get to chill at the circular bar instead. And it turns out that I really enjoy Guinness.
Exhausted by this point (Lisa's pedometer said we'd walked nearly 4.5 miles at this point!) we jumped into a waiting taxi and met Colm, one of the many friendly people that we chatted to over our stay. On our way back, we popped into Tesco to stock up on the all important crisps and prosecco. This was important because on Good Friday it turns out that you can't buy alcohol in Dublin, or indeed Ireland as a whole. We were a bit naughty and hid ours in our room, defying the signs that said alcohol could only be consumed downstairs. We're just not friendly or sociable. Dinner on Thursday was at Aperitivo. A tiny cafe we found through Trip Advisor that stays open into the evening serving yummy pizzas – seriously if you're in Dublin you must go here. Be aware that there are only a handful of tables but a big pizza and a glass of wine came to under £14. I can personally recommend the Mediterranean vegetable one (or the megiterranean one as I said when I ordered) and the Pinot (as always). Just up Parliament Street is Porterhouse. A labyrinth of a pub with lovely barmen, a mix of tourists and locals, a couple eating each others faces and an awesome band on the smallest, randomest stage ever. The stage, seemingly precariously wedged between two staircases above the bar, hosted three grey haired gents singing classic rock songs that made our evening a hoot. A few bevvies later we headed back for an earlyish night.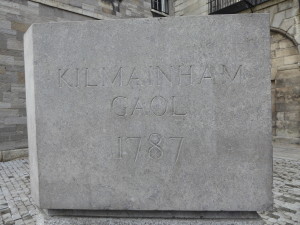 Friday brought with it an early start – we hopped on a local bus and headed back out to the Gaol (having walked it once we weren't going to do that again!) We arrived at 9:30am. We queued until 11:40am. Our tour started at midday. On the plus side, Good Friday marked the 100 year anniversary of the Easter Risings and as we patiently (ish) waited for our tickets, we were soon surrounded by people in period dress singing, beating drums and,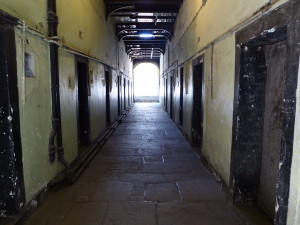 joy of joys, playing bagpipes. Even my deepest Scottish roots dislike the bagpipes. Once we got in, the music dimmed, but we discovered that there is a reason the queue was so long. Really interesting tour where we learnt that the English didn't treat the Irish as well as we probably should have… but at least we built some architecturally interesting jails. I mean I wouldn't have wanted to be a prisoner, bloody cold and that's after they installed glass in the windows. The East Wing is something to be marvelled at (helpfully given a lick of paint after they allowed camera crews in to film The Italian Job, In the Name of the Father and Michael Collins amongst others) and as we stood in the yard hearing about the rebels' executions, the sound of drumming rolled over the walls and added some real atmosphere to our trip.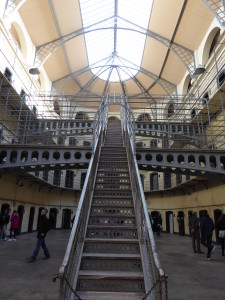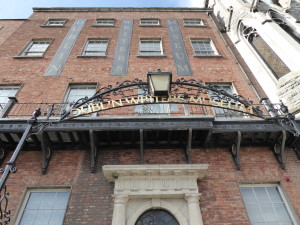 After our history lesson we strolled along the parade route and popped into PHX Bistro for lunch. A random find as we walked along the river, boy were we happy. A panini filled with pastrami, monteray jack cheese and chorizo aioli with fries was perfection. Well perfection would have been a beer to go with it but that wasn't allowed boo. At this point we were exhausted from three days of walking so we jumped into a taxi to head to The Writer's Museum. This turned out to be a bad decision as, unbeknownst to us, the main road leading up to the museum had been pedestrianised ahead of the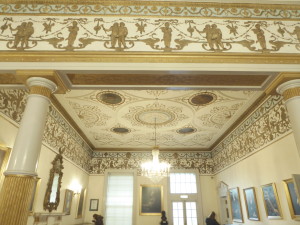 Easter Sunday Parade. So we walked. Boo. But on the plus side, the museum was lovely (especially for three book nerds). In an old townhouse that once belonged to the Jameson family, it profiles key authors from Ireland – for example, did you know that not only was Bram Stoker Irish, but also that his name was actually Abraham? I did not, and went on and on about it for days. A quick browse in the book shop later (because it would be rude not to buy James Joyce's Dubliners whilst in Dublin) we meandered back to our hostel. Now, as I may have mentioned, Good Friday in Dublin means no alcohol, so our evening consisted of drinking our hidden prosecco, eating crisps and going for a late evening walk around Temple Bar to see how empty it is and to buy a sausage sandwich. We also ended up doing the dance routines to Steps and S Club 7, but that's fairly normal for us.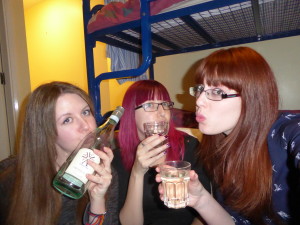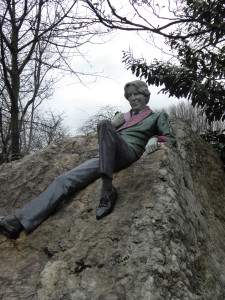 Saturday arrived far too quickly, but we were determined not to waste a second of our final day so we headed out to Dublinia. Set in an old church, Dublinia looks at Dublin's (and Ireland's) Viking and Medieval history. Basically, you get to dress up as Vikings. Some would call it educational, some (us) would call it a hoot. You can also get locked in the stocks. Loved it. As part of the ticket price, you can also go up the tower at the end of the tour. Now, we all know I'm a big fan of climbing large structures in European cities, at 97 steps it's not the tallest but it was nice and empty unlike the Guinness Storehouse. We jumped forward in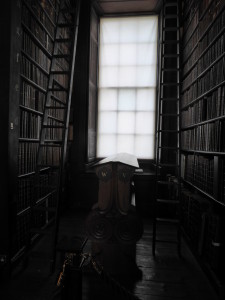 history after the Vikings to visit the Oscar Wilde memorial in Merrion Square. He lounges high on a rock for you to admire, much as I imagine he did in Paris as a young writer. Lunch came in the form of a very expensive G&T and a veggie lasagne from a different branch of the Porterhouse. Don't ask for a double, mine cost about £10. I mean it was good but I wasn't expecting that. Stick to beer and wine for the less expensive options. Our final stop on our whirlwind tour was the Book of Kells in Trinity College's Old Library. Book of Kells, not so interesting (probably because we are not religious), the Old Library however was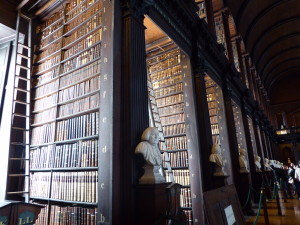 beautiful. I didn't want to leave. I wanted everyone else to leave so that I could explore properly and touch the books but that is definitely not allowed. Filled t'brim with bookishness, we headed to the airport for a final beer ahead of a slightly rocky flight home – luckily landing before Storm Katie really kicked in.
So there we go. Dublin in four days. Big love to Catriona and Lisa for putting up with me for that long, even with all the scenic routes I made them walk. I'm sad I didn't get to try Dublin City Gin – didn't see it anywhere so no review for you guys, but I did try Dingle Gin which was lovely. We would highly recommend Abigail's Hostel to anyone looking to stay somewhere central without breaking the bank – we each paid under £100 for the three nights which includes bedding, towels and breakfast. Fun Dublin fact to end this with: it was considered a a mortal sin for a Catholic to attend Trinity College until 1970. That's right. Mortal Sin.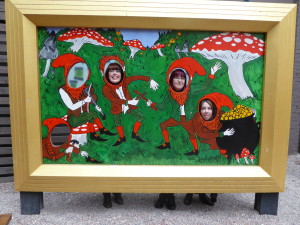 You can check out my photos from Dublin on my Instagram and keep up to date with my mundane life on Twitter.