Who doesn't love being served breakfast food all day? When we found ourselves hungry and walking around the south lanes of Brighton in the rain this August bank holiday Monday, we walked past The Breakfast Club ( the former home of Fat Leo's) and were drawn in by the promise of breakfast at 2:30pm. We arrived in a quiet period and were seated in a cosy booth with views of the rain-soaked streets outside as well as the other diners. The first thing we noticed was the rather epic and varied playlist – whilst we were there we heard from Beyoncé, Destiny's Child, Ricky Martin, early Madonna, Doris Day and the classic "Ooo stick you" by Daphne and Celeste. The layout of the main room meant that it took us a little while to get served as we were hidden behind the stairs from the bar, but we were so busy drooling over the menu we weren't too bothered by this.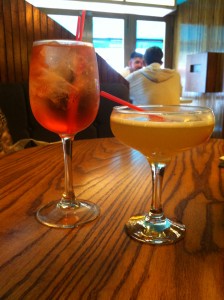 We were served by Maisie (shout out to her for being super helpful and lovely to us!) who guided us on food choices before we picked the chorizo hash browns for me and the breakfast burrito for my companion after a discussion about "how spicy is spicy?" We also had a cocktail craving which Maisie fixed with the bar staff – note: they don't serve the full menu or cocktails on weekends to save them during busy times, but if you ask nicely and it's not too crowded they will serve you Aperol Spritzs and Rosie and Gins (Bombay Sapphire, Rosemary Syrup, Pineapple Juice).
We'll start with the cocktails – the Aperol Spritz was well-balanced with enough soda for me to be able to drink some without screwing my face up but not enough to make Catriona whinge about her weak it is. The Rosie and Gin was from me being brave. I don't drink Bombay Sapphire. I'm also not super keen on rosemary. But in the spirit of being brave and trying new things I ordered it. The pineapple was the main flavour coming through and the rosemary counterbalancing the sweetness. I recommend.
An empty stomach meeting our strong drinks meant that we were hitting the tipsy line when our food arrived. Mine a bowl piled high with fried potatoes, chorizo, sweet roasted peppers and onions and friend eggs (and a mushroom which I tried a bit of to be brave and quickly passed over). Catriona's burrito was stuffed full of ground chorizo, fresh scrambled egg, roasted peppers, mushrooms and spicy pepper sauce with plenty of sour cream, salsa and guacamole on the side.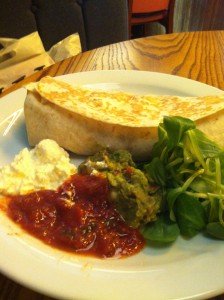 The fried potatoes were heaven, the chorizo was smokey and spicy and the onions and peppers were soft and sweet and gave a freshness to the carby goodness which went perfectly with the salty and slightly melted feta I added. The eggs were fried perfectly, the second I put my fork into it, the yolk oozed out over my plate. The only thing I would change about this dish is having the addition of some chilli, or some BBQ/spicy sauce. The mouthfuls that had chorizo were brilliant, but the potato and egg combo was slightly bland. Ketchup and Brown Sauce was provided on the tables, but as a spice lover I would have appreciated some Tabasco being offered. The portions were more than plentiful and by the time I had finished wiping my plate clean with the last piece of potato I was very content and sleepy.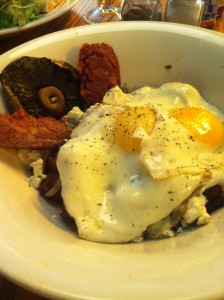 The burrito nearly broke Catriona due to its size. She is less of a fan of spice and every so often she would go "ahh found a spicy bit" and dip her fork into the sour cream. I tried a bit of the salsa and thought it was fine – the classic game whenever we eat together. She was impressed by the fresh scrambled eggs as we had worried they might have been mass cooked and left until needed, but they seemed fluffy and made to order.
This isn't the cheapest place to get breakfast food. You're looking at the price of a 'proper meal' – my bowl with added feta came to £10.70, the burrito was £9.00 and an extra £1.50 for a pot of sour cream (note: don't order this as it comes with sour cream), and the cocktails were £8 each. This was a bit of a splurge but since we had been mooching around town frivolously spending money, this fit that brief. I would save coming back here for a special occasion rather than it becoming my go-to breakfast place – but this is purely for the price rather than the food. You definitely get what you pay for. We enjoyed every mouthful of our food.
We only saw the breakfast/brunch menu but it is varied and provides plenty of vegetarian options and ranges from pancakes to eggs in various styles to full fry ups. The drinks on offer include tea and coffee, juices, wines, beers and cocktails with happy hour every day between 5 and 7pm.
You can check out their website styled on pixelated video games here as well as on social media: Twitter, Facebook and Instagram – and you can check them out if you live outside of Brighton as they have sites scattered around London.
As always, if you have time to spare and like reading rants about commuting, rain and tourists then you can check me out on Twitter and Instagram.