-Luang Prabang, 11pm-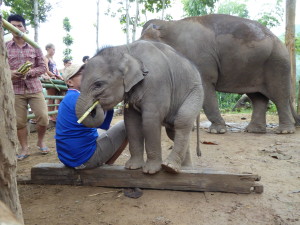 Today was awesome. We got up early and spent the morning at an elephant sanctuary. I have mixed feelings about the place – it was incredible and I love elephants more than anything and I got to be up close to the and feed them and stroke them and it was a great day. However. When we arrived, a HUGE group of tourists were already with the elephants so we went down to a little enclosure  and fed a mother and baby. All nice and good except the mother was chained to a tree.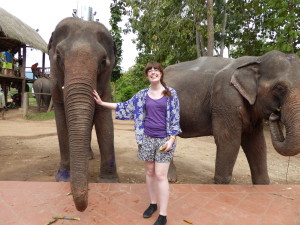 The keepers said this was to ensure we could see and pet the calf and to stop them walking off – which I understand but I'm still not ok with the
chain part.
Then we got to go ride them. Again, the mahout said all the blankets protected their backs (and obviously elephants are strong) but I felt a bit funny a bit it. With Christian on the neck 'guiding' it and myself and Sarah on the bench on the back. The elephants were obviously well-trained and knew the route as most of them didn't need guiding – although Ping Pong had other ideas and had a little wander off into the trees. The mahouts were pretty funny,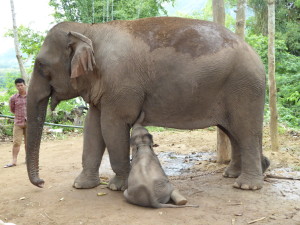 stealing our cameras and taking loads of photos and pointing out spiders – I shit you not we saw two that were the size of our faces which caused great amusement when people started screaming and hiding in their hoodies.
After riding them we went down to the Mekong to give them a little bath and a scrub. One final load of bamboo and we headed back to the vans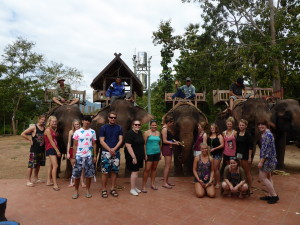 and went to Phu Si Falls. A natural waterfall ending in a pool to swim in. We all dipped in, some better than others. Personally, I inched my way in to the freezing cold water, to then be nibbled by fish. Safe to say I got out fairly promptly.
| | | |
| --- | --- | --- |
| | | |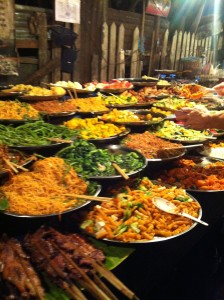 After a busy day, we went for street food and wandered around the night markets.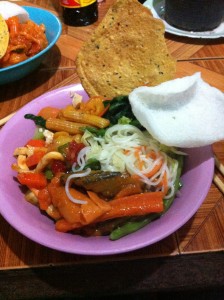 The street food was basically massive stands full of stir-fried vegetables, rice, noodles and skewers of meat. One bowl for 15,000 kip aka £1.20. So good. [current Jenny: I think that meal was my favourite from the whole trip]. All really fresh and tasty. Plus Beerlao, obviously. The night market in Luang Prabang is better than in Hanoi. In Hanoi it was mostly tourist stuff and plastic rubbish, but here it was jewellery and clothing and bags and paintings. I wanted all of it! I bought a few presents for people and a Beerlao t-shirt and a patterned dress for myself. After wandering up and down twice, we called it quits and headed home.
Continue reading for adventures up the Mekong River