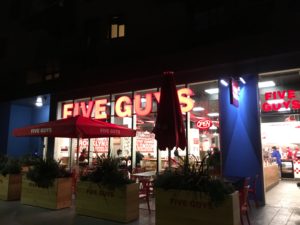 Five Guys, the American style diner, has opened up on the new Marina Boardwalk bit that juts out past the Wetherspoons, and so we headed down there before a cinema trip. Ordering is super simple.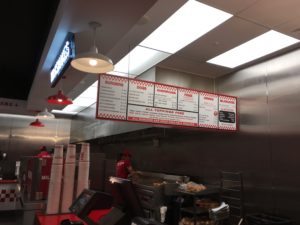 You pick your burger and then pick as many of the free 15 toppings as you'd like. We ordered a cheeseburger with grilled onions, jalepenos, pickles and BBQ sauce, and a bacon cheeseburger with lettuce, ketchup and grilled onions. And Cajun fries. As we were sharing fries we ordered a large, the women informed us this served four people so we laughed and ordered a medium.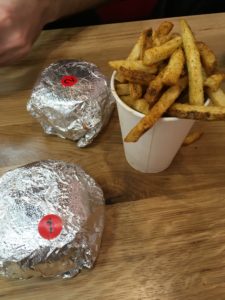 £28.40 later and we went and took our table with our beers and waited for our number to be yelled. It's like Argos meets Nando's. Better than McDonalds but not quite a restaurant. But #15 was yelled and I sent the boy to grab the bag. Out came two burgers and – what both of us called – a normal amount of fries. We definitely could have had a large. NOTE: We spent the meal complaining about a lack of sauce to dip the fries into. This is by the collection point. But the boy didn't spot these. So just remember that. Also, food comes in a bag, no tray, not plates. Just burgers and fries on the tabletop.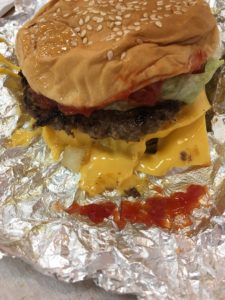 The burgers were fine. Each bun comes with two thin patties and your toppings. Personally I prefer a thicker burger, medium rare. But I understand that's not their thing and compared to most fast food this is pretty good. It's juicy and tasty, and they don't skimp on the toppings. Mine was loaded with jalepenos that were super spicy.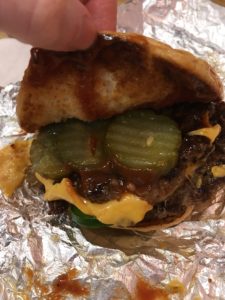 Lucky I had a beer and some cheese. The boy said "yeh. It was good. It didn't look like much but it tasted much better". I think that accurately sums it up. They look a bit pants but they made us happy. The fries were soft (which is nice, I'm so super bored of overcooked fries) with a really generous covering of spicy cajun seasoning. Considering they arrived in under five minutes, I didn't have any reason to complain. Other than the boy's inability to find mayonnaise. Oh and I think it's a little overpriced for what you get.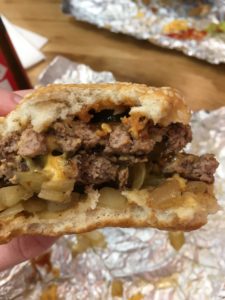 Five Guys are all over social media on Twitter, Facebook and Instagram.
You can check out my food photos on my Instagram and Twitter.
Have you been to Five Guys? Let me know what you think.