-Luang Prabang, 10pm-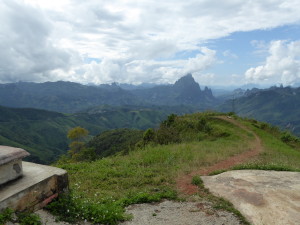 This morning we loaded ourselves into our mini vans and headed off through the mountains to Luang Prabang. Whilst the roads were in pretty good shape, we spent seven hours twisting and turning every second, looking down the edges of mountains and across beautiful scenery. I only thought I was going to die a few (hundred) times. Speeding round blind corners whilst looking out the window down the edge into the abyss. Terrifying. Anyway, we survived – minus some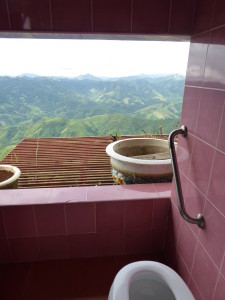 people stopping for mini-vomits due to motion sickness. With a "happy stop" at the most incredible service station high in the mountains and toilets with a view and lunch in the clouds, I quite enjoyed the drive (once I stopped looking out the window!).
Finally we arrived in Luang Prabang. After checking in we headed out for an orientation walk. Our little group got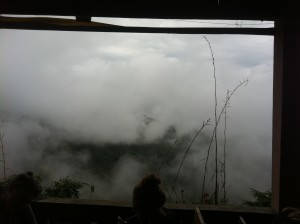 about a third of the way up the epic hill before we decided it was far too hot and we were far too tired for that shit.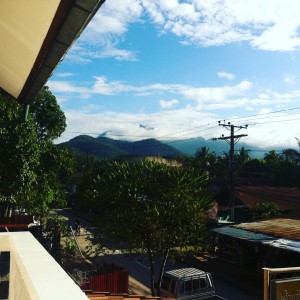 Dinner at Lao Lao Garden! for the twins' birthdays was a treat – they had reserved us the top section of the garden and decorated it with balloons and lanterns. All 20 of us – 18 tourists, the lovely Channy and our local Laos guide Seng – gathered for Beerlao (the beer of Laos), fruit wine (which some enjoyed more than others at 25%) and great food. Sadly mine arrived third to last so I was pretty hammered from my two giant beers and the free shots we got – no idea what it was but it tasted like an alcoholic lemon and honey. I quite liked it, no-one else did.