-Bangkok, 1am-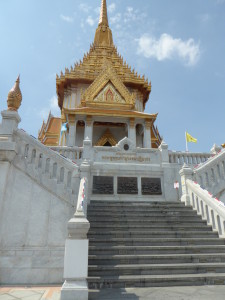 The train was alright. Although every time the train jolted around (this happened a lot), I jerked awake. Then we got woken up at 6am ready for our scheduled arrival time of 6.50am. We actually pulled into the station a little after 8am. Grumbling and groaning about the extra hour's sleep we have had, we all picked up our packs and headed out t Bangkok. Fuck me Bangkok is HOT and HUMID. 34 degrees on our first day. That's unnecessary really. After a hurried breakfast we were allowed into our rooms. I was feeling pretty crap at this point, dehydration + heat + lack of sleep leaves Jenny feeling really rather rubbish. So I decided to break into my bag of medicine. Dioralyte tastes like salty grim water it turns out. I drank half of the advised 200ml and gave up and just drank the majority of a 1.5l bottle of water. That, plus paracetamol and a good shower, sorted me out. A few hours later and us cool kids went to see the giant Buddha statue (otherwise known as Phra Phuttha Maha Suwan Patimakon at Wat Traimit). Well, they walked me there and waited in the shade whilst Josh and I went to see it – the others had seen it when they started in Bangkok a month earlier. It really was a giant Buddha statue. According to my Triposo app, people didn't know it was gold for a while as they had painted over it with stucco to protect it when the Burmese army invaded.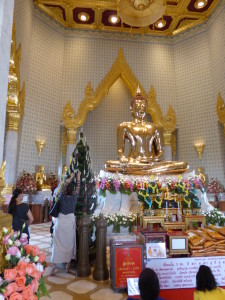 After walking up what felt like a million steps (actually only about 40 but it was damn hot) we had sweated up a storm, so as we physically mopped up our faces we piled into taxis and went to MBK. Basically a huge shopping centre, but it had air con so I was happy. After a massive Mexican feast in their food hall (with a great card paying system),  we had a mooch around the market up on the top floor. I was persuaded into buying a ridiculous pair of trousers – you know, the 'traveller' style, big and baggy and decorated with elephants. They're damn comfy and cost £3 so I regret nothing.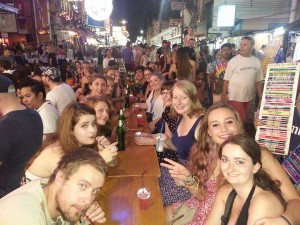 This day marked our final day together so Channy took us to Khao San Road for as private dinner. Food was good as always, and after dinner we went around the table talking about the trip. It all got a bit emosh. As Channy spoke about the trip and how we'll always been family, I (completely honestly) felt a bit left out. I was there for 12 of the 30 days that everyone else did. I never felt fully part of the family. There are five beautiful people who welcomed me completely and utterly. Most of the others were friendly but didn't exactly go out of their way to talk to me, and a few were just rude. Turns out that travelling doesn't make everyone interesting – some people just want to stay in their cliques. But fuck them. I had a great time and couldn't have cared less to say goodbye to most of them.
To Sarah, Debs, Sammy, Emily and Josh – thank you.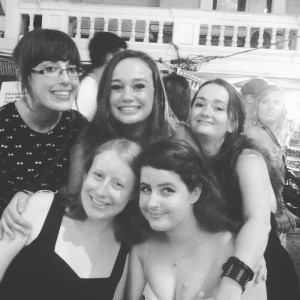 You guys made my trip. You put up with me for two weeks. We'll always have Beerlao (the beer of Laos). We all decided to deal with our emotions in a grown up way and went drinking and dancing in a bar until midnight when my body gave up on me. Turns out when beers are 630ml you get a bit drunk. Especially when they're £2.