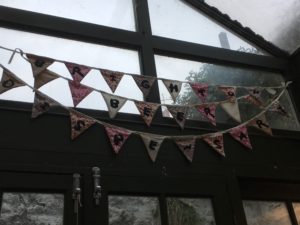 It's a Sunday. Therefore we needed a plate of roasted foods for lunch. So after seeing a number of tweets about Dizzy Gull's food at the Brighton Beer Dispensary, we meandered up the road to get some grub. They start serving at 12, so thanks to the fear that good Brighton eateries have instilled in me in that if you haven't booked, you won't get a seat, we arrived at 12.01pm to get a table. We were literally the only people in there for at least 45 minutes. They don't take bookings, but we were there until gone 2pm and there were plenty of tables, so don't worry about rushing down there.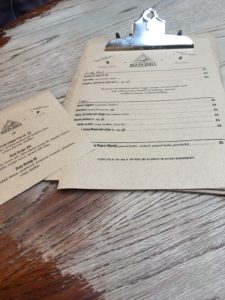 Luckily for me, the very nice lady behind the bar was very helpful in guiding me towards a beer, and I was soon handed a Brighton Bier and we settled ourselves in to the back corner with Connect 4. Then we ordered one beef roast, one Dizzy burger, beerkins and three cheese fries (to clarify: this is one portion of fries with three cheeses on it, not three portions of cheese fries). In hindsight, this was too much. The beerkins were crisp and salty when they arrived, deep fried in batter and served with mustard mayo. As a gherkin lover, I was a fan. The boy isn't such a gherkin fan but agreed they were pretty good. Sadly, our food arrived super quickly so these got abandoned and as soon as they got cold they were just a bit oily. The beef roast was delicious. As usual in a pub roast, the potatoes weren't the best; but the beef was tender, the Yorkshire was fluffy and the accompanying veg was good. My main issue was cauliflower cheese. I don't like this at the best of time and I don't appreciate cheese in my gravy.
| | |
| --- | --- |
| | |
The boy's burger looked yummy, and as he picked it up juice and sauce came dripping out and covered the plate – perhaps a second plate is needed for people like me who actually put their food down during a meal. His review was "it's structurally sound, tasty and attractive". Despite the amount of sauce that dripped out, the bun held itself together and the chips were well seasoned and fluffy – again, like the roasties they could be crispier.
The chips carried on with the three cheese fries. Dripping in smoked applewood, Brighton blue and Sussex charmer they were really yummy. For the four I managed to eat. Sadly we grossly over estimated the amount of food we wanted as the first meal of the day. But these lasted way past our meals and a few more overly competitive games of Connect 4 and were still pretty yummy when cold.
We ended up somehow paying £42 – £12 for the roast (very reasonable), £10 for the burger (very good), £5 fries and £4 beerkins, which left £10.40 for two beers and a lemonade. Would we go back? Yes. The food was nice and freshly cooked, the staff were super lovely and it wasn't rammed so we didn't have to fight for space or yell to hear each other. Plus they have board games so it's a winner in my books.
Have you been to Dizzy Gull? What do you think? Let me know on Twitter and Instagram!