No. Not the band. (Although why not listen to Seaside as you read this).
Kooks opened in the North Laine's recently and I've been intrigued by the name, menu and frontage. Due to Dan's inability to make a decision, I told him this is where we were going for dinner.
Describing themselves as "Brighton's boho bistro, home-from-home for the creative types", this is normally the kind of sentence that makes me loudly sigh and hate Brighton a little bit. How can a bistro be boho? Drawn in by my lust for a steak, we stroll in just before 8pm on a Wednesday to a fairly empty restaurant. 90 minutes later when we leave, the place is packed with barely a seat spare.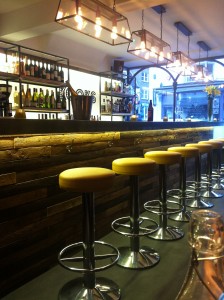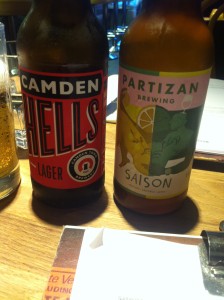 We settle down and order the two lagers on the menu – although Dan gets served the wrong one but it isn't explained what we got instead… I get a Camden Town Brewery lager and whatever Dan was served was flavoured with lemon and thyme which was nice and zesty against our evening of meat.
The menu. An interesting mix with starters ranging from wrapped vine leaves with pitta and hummus to sweet potato soup and mains featuring steak (mine), burger (Dan), spiced green lentil salad, haddock, and spinach, ricotta and parmesan gnocchi. But yeh. We went for meat. As always.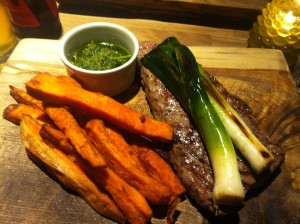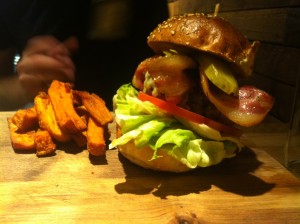 I order my steak medium rare and with sweet potato fries instead of twice cooked chips. That steak though. I finished eating it nearly two hours ago and I'm still thinking about it. I imagine it will be the only thing getting me through work tomorrow as well. Beautifully pink in the middle, I have finally found somewhere that understands how to correctly cook a steak. Nice and juicy and seasoned with black pepper to perfection. The sweet potato fries weren't too soft or too crispy, a good size – certainly a chip but not quite a wedge. What makes this so incredible was that chimichurri sauce. Heavy on the garlic and vinegar, it's potent but not overpowering. Basically. I was in heaven. To the extent that I repeatedly said how happy I was. I'd had a bad day and was a bit grumpy but this turned my mood around.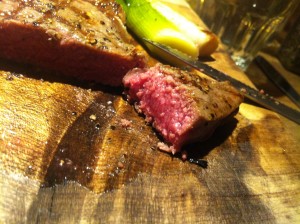 Dan's burger was huge. The brioche bun just held it together as meat juice dripped out onto the serving boards. I didn't try any (we don't really share food) but his review was "yeh, it's a burger and it's pretty good". I really need to start dining with more eloquent people. They certainly didn't hold back on the bacon, although the streaky bacon didn't look as crispy as it could be.
We didn't think we could manage dessert as the meat sweats were kicking in so we paid our very reasonable bill (£37.50 – £17 for the steak and £11 for the burger) and strolled out [side note: tonight was the night I chose to wear my new leather jacket, I left with a chunk of cow in my belly and the incredible smell of soft new leather wrapped around me. I still can't believe I used to be vegetarian].
Would I go back? Yes. Would I recommend it? Yes. I liked the look of everything on the menu – I nearly went for the lentils which says a lot! They have a wide variety of wines and cocktails, as we were leaving the bar seats were filling up and I can imagine hanging out here of an early eve (because I'm a creative Brighton type…). But order the steak.
Kooks is on the corner of Gardner Street and Church Street and is open everyday with special breakfast and sandwich menus to keep you going throughout the day. You can check out their website here, and find them on Facebook, Twitter and Instagram.
If you're ever bored and fancy checking out my rants and loves then gimme a follow on Twitter or Instagram.
I will leave you with the wise words of Camden Town Brewery…