-Bangkok, 10pm-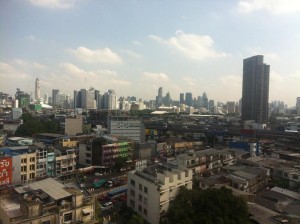 Finally on my last proper day in Bangkok I got the lie in I've been waiting for since I left work. I slept until 9am! Not long enough, but most days have been 6am alarms so I was happy with that. Then I had to load up my bag, lug it downstairs, check out and check back in to my new room for the final night. Major faff but ended up on the 11th floor with a view over the city so it was ok. We decided to go get a proper Thai massage to celebrate. Wow – I was put in positions I didn't know my body was capable of doing. Considering I paid for a back and neck massage, I got more than I bargained for!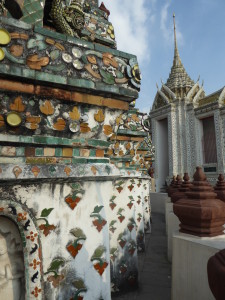 Starting with a foot massage, she worked up my legs and gave my bum a good squeeze before sitting on me and attempting to press all of my bones and organs into the floor. My fingers and toes were pulled one by one to pop them – my old broken toe was especially painful. Then, whilst laying on my front, she pulled my arms out behind me and pulled me into a cobra position. After being told to move into a sitting position, I was twisted and turned in every possible way. Bits of me cracked that I didn't thank could, or should- crack. When my time was finally up, I did actually feel pretty good. And the whole thing was made better by Sarah loudly complaining about it hurting and the Thai women laughing at her.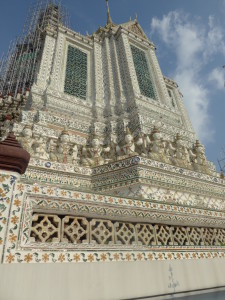 After our massage, my empty belly took over and we went to a place next to our hotel where I shoved a cheeseburger with egg and fries down my face in about 3 minutes flat. It felt so good. For about 30 minutes. Then my bowels fell out. Two weeks of travelling around and my stomach was fine, one burger and I'm sat dying on the toilet for an hour. Needless to say, I felt a bit delicate but I was determined not to waste my last day so I headed out to Wat Arun (alone, as everyone else was moving on to different hostels). This is because I wasn't able to leave the toilet until 3pm, and the Grand Palace closes at 3:30pm. After haggling a tuk tuk down from 400 baht to 270 baht, off we shot across the city.
With the wind rushing past me I felt better – until we stopped and I was instantly covered in sweat. But I made it to the Wat without dying, and it was definitely worth the trip. Admittedly, a lot of it was under scaffolding and netting, but it was incredible. Covered all over in intricate mosaics and statues of monkeys and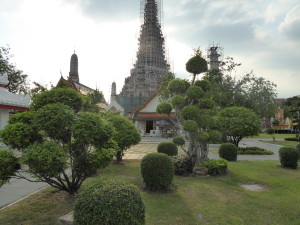 demons, I lost myself for an hour walking around slack jawed. The surrounding buildings are just as beautiful, filled with murals and giant statues. Sadly after an hour I was drenched in sweat from head to toe  and in need of some air con. Annoyingly, my tuk tuk driver had offered to wait for me and I politely declined. Don't do this. I wandered around for 20 minutes trying to find a taxi or tuk tuk to take me home. I eventually accosted a man who, I'm pretty sure, had finished for the day. I was so desperate to get back I didn't even bother to haggle him down from 300 baht.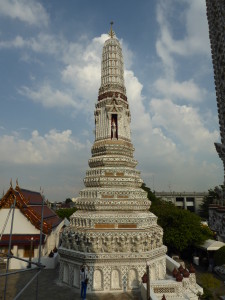 Gross fact: I got back to my hotel, laid on my bed and when I got up there was a big wet patch on my duvet cover where I had been laying. Pretty grim. I spent the next few hours trying to get all my things in order for my flight home and got distracted by watching the sudden downpour of rain and lightning I could see from my new room. I eventually left my hotel to meet the lovely Sammy for my final meal. We were the least enthusiastic people party people out on Khao San Road that night [current Jenny: I then found out that Sammy had gone out partying again that night, oh to be 18 again…]. With my tummy still intent on emptying itself every so often, I had a final meal of friend noodles with chicken. Fairly bland but thought that was best given the situation!
Time for bed, gutted to be ending my adventure but I am so ready to get out of the heat! My flight home awaits…