I survived day one.  Hurrah. Day two started with the builders outside my window singing and clattering around at 8am, so I started my planning early.
Heading out at 1pm I return to my favourite place in May, the Spiegeltent, for the Northern Irish showcase – specifically Ciaran Lavery. Lovely ginger man in a brand new suit. My kinda man. He was the second act of the festival to rock the harmonica/guitar combo. Different vibe to Fraser A Gorman though. The audience is calm – this is probably due to a mix of hangovers, early afternoon gig and the beautiful calming tone of Mr Lavery's voice. My sleep deprived body instinctively wants to curl up in a ball and fall asleep listening to his voice. Halfway through the second song, he interrupts himself to dedicate his set to anyone that walks in half way through thinking they were coming to an epic afternoon rave, but now had to stay out of politeness, before continuing with his set. Great voice and cracking sense of humour. Top marks.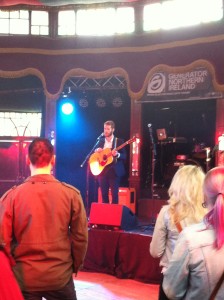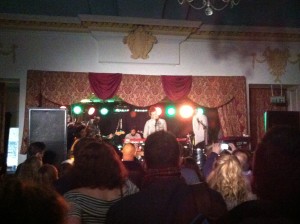 Now for a real adventure: finding the Paganini Ballroom. Tucked in round the side of the Old Ship Hotel on the sea front and real different to everywhere else I've been. Balconies, chandeliers (classy, not Shoosh-esque monstrosities) and Regency carpets and wallpapers. Then Groenland burst onto stage. There is a lot of them on a tiny stage, so I was worried that the dancing might tip one off but they partied on like it wasn't 3pm. They were brilliant. I enjoy  anyone with a ukelele, violin, cello and melodica. Particularly the melodica. They quickly warmed the crowd up for a boogie and catchy clapping – sadly the girl behind me had no idea how to clap in time…
It's evening. I'm outside Patterns again in what can only be described as a mahoosive queue. It turns out that it is because the venue isn't open yet, so we move pretty quickly. Heading inside, the first thing I notice is the signs pointing towards the toilets – a relief after getting lost yesterday. A group of boys with wonderfully hipster hair appear on stage, everyone cheers, they start performing and people start looking confused. After the first song they thank everyone for coming out and introduce themselves as Osca. Now everyone looks very confused and starts pulling out their programmes. This is NOT Andy Shauf. As people start drifting out, the rest of us are rewarded with an uplifting and rousing set. When I  get outside in the daylight, I see they were meant to be on after Mr Shauf. What happened to him?
I ponder this as I cross over to coalition (one of the only seafront clubs with the same name as my uni days) just in time for Beach Baby. A "London based four piece whose crisp, U.S-inspired take on apathetic alternative pop". Coalition is rammed (I've never witnessed it empty) so I'm stood behind a post so no photos. Very uptempo and danceable. Not sure I would call them apathetic.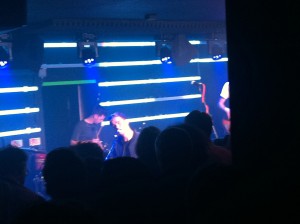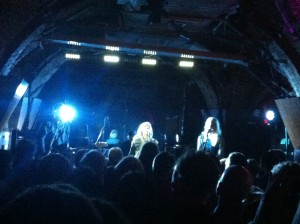 Aurora. Her show is definitely not suitable for epileptics. I know she's only 18 but looks avoid 12. Big wide eyes, gesticulating hand motions. Her band create wonderful noise encompassing everyone in the venue. Rapturous applause from the crowd. "You make me blush and sweat". Sadly this is another act ruined by drunk bar chattering. Running With The Wolves bought on huge applause, apart from the man next to me who seemed to refuse to clap the ENTIRE show. Judging from the crowd and twitter, she entralled every member of the crowd and made us all fall a bit in love with her.
I head to the Corn Exchange for my second queue of the night (again because the venue hasn't opened) and basically run inside to see Rag n Bone Man. He does not disappoint. Three songs in he sings Lay My Body Down and I nearly started crying and then had to hold it together for the rest of the show. Deep, soulful voice. Lovely beard. To anyone wondering if they should go see him, yes. Yes is the answer.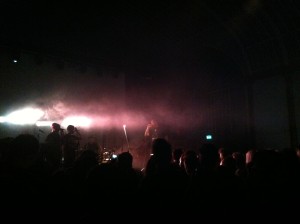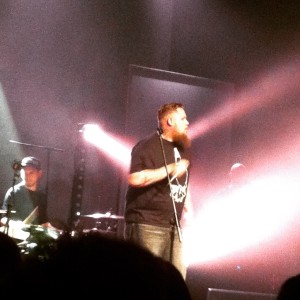 He was followed by Sunflower Bean and DMA's. I have to admit, I didn't pay the closest attention here because I a) had found some friends and b) I had consumed 6 pints by this point. Apparently Sunflower Bean mixes Black Sabbath's dark rock with psychedelia. DMA's sound a lot like Oasis. A lot.
Then came Django Django. The reason I waited in Corn Exchange for two hours. The venue was at capacity. The crowd was pumped. They put on a great show as always. We had a boogie. We started to sweat. It was now nearly 1am and my sleep deprived body needed a rest.
Day at two has basically destroyed me. One day left!