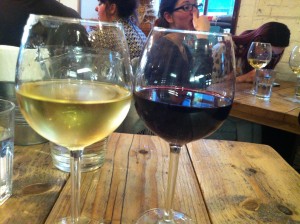 We arrived VIP Very Italian Pizza at 7pm on a Wednesday and despite it already being busy, we manage to snaffle a table by the kitchen so we can people watch. I'm a big fan of anywhere that is constantly busy all night, especially mid week, I take it as a good sign. After ordering some wine (obviously), We took recommendations from the waitress and led Catriona to order a Parma and I a Friariella (because I like sausage and broccoli). We also got some olives because, well, olives. They turned up firm, fresh and and salty. The wine was pretty good for a house white and a house red. Not the best but also at £4.90 for a large glass no one is really complaining.
The atmosphere in here is great, busy the whole night through, busy and buzzing. The waiting staff are really friendly and happily exchange Catriona's small wine for a large one when they accidentally give her the wrong size. The pizzas arrive after a lot of lustful glances, and boy are they worth the wait.
The pizza dough in itself is a work of art. Soft and chewy but still nice and thin. Nom. Mine is topped with sausage and broccoli. It's proper sausage. Actual meat rather than some meat padded out with breadcrumbs and fat. Super tasty. The broccoli is soft and almost spinach like. Perfection. Catriona's is topped with rocket, Parma ham and long parmesan shavings. Exchanging a bite of sausage for a bite of Parma (we're good friends like that) I admit hers is damn good.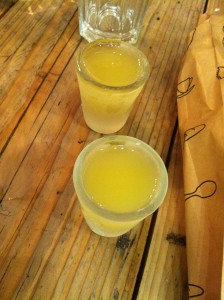 After a solid attempt, we both end up with a a doggy bag to go (heads up – the pizza will leak through and stain what is in your bag) and order a lemoncello so we can keep chatting and watching the line of people that is forming out the door. After paying the bill we decide to be whimsical and head to the Brighton Wheel. This was after going to Morrisons for some mini wine bottles and scratchcards. Because we're classy like that.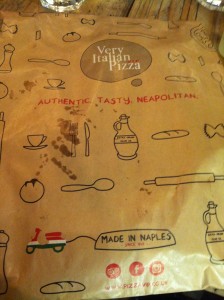 All in all, good night out. Our bill came to a grand total of £32.30 which in my books is a good deal. If you're hanging around Old Steine and looking for good food – head here.
You can check out VIP on Facebook and Instagram and I'm available on Twitter and Instagram.