-Chiang Mai, midnight-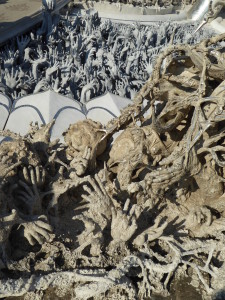 So after the grasshopper incident in Laos, I was hoping for no more wildlife in my room. Alas, this morning I woke up and in the middle of my morning wee I noticed a toad sitting in the corner of my bathroom, who then hopped away and left through a crack in the wall. [current Jenny – it only struck me when I got back to England that I realised my room was on the first floor…] Decided against a shower at that point.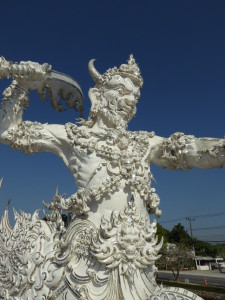 Another early start (seriously, these tours aren't designed for anyone wanting to relax and have a lie in!) and we jumped in yet another mini van and drove to Chiang Rai's White Temple. Before I explain about the temple, let me take a moment to discuss the mini van. There were stickers saying what was allowed inside, a selection include karaoke, smoking and naked ladies. Got to love Thailand.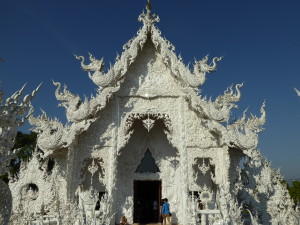 Anyway, temple. A must see. Wat Rong Khun was designed and built by artists Chaloemchai Khositphiphat – who so far has spent 40 million Thai Baht of his own money on it, about £800,000. The outside is all white (funnily enough) and decorated with hands rising up from the ground symbolising human's unrestrained desire. Crossing the bridge and entering the temple is like entering a different world. The stark white outside contrasts the busy fiery inside. Murals adorn the walls – demons and fire mixed with pop icons such as Michael Jackson, Harry Potter, Superman, Batman and Hello Kitty to name but a few. Seeing the temple is free thanks to the artists so if you're ever in Northern Thailand check it out.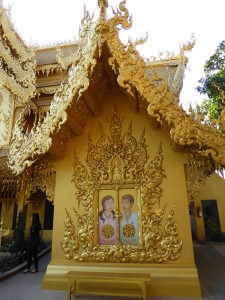 The trip from there to Chiang Mai was another few hours (a lot of this trip was spent in a bus) of farmland and winding roads, with a toilet break at 'Cabbages and Condoms'. Yup. That's the name. This afternoon was spent in a sweat as we had a little wander and looked at various temples. Wat Chedi Luang in particular was pretty spectacular. We were lucky enough to witness the monks praying and chanting in one of the most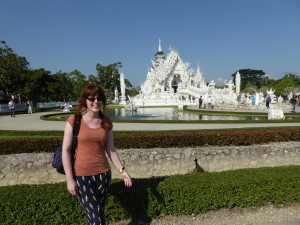 beautiful buildings I've ever seen. Arriving back at the hotel mere minutes before dinner (we might have got distracted by an incredibly strong mojito…) we headed out to the night market for food and shopping. Others went on to a Ladyboys show, but exhausted and knowing we needed to be up early for a Thai cooking class, we headed back early to chill out.
For epic food pictures, move on to day 12
| | | |
| --- | --- | --- |
| | Wat Chedi Luang | |