-10pm, somewhere between Chiang Mai and Bangkok-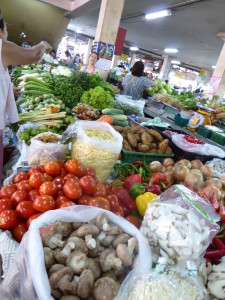 The cooking class this morning was totally worth it. We were picked up by a little Thai lady and driven in a tuk tuk to a huge food market full of actual locals instead of tourists. We picked up a few ingredients that we would be using – one highlight "this vegetable is called morning glory – it doesn't mean the same thing here as it does in England". Oh how we laughed like children. Slightly strange moment when we walked into the meat section and on top of a tub of live fish, was a bag of frogs. Alive and just chilling in their mesh home. They didn't look super happy.
Then we motored 15 minutes north of the city to her house. In the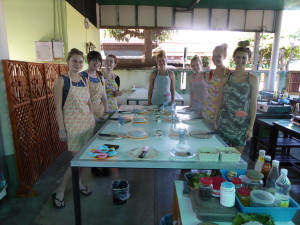 garden, under a cover luckily for my super pale skin, she has a number of gas burners and prep tables. Over the two hours we prepared and cooked: tofu pad thai; chicken with cashews; chicken massaman curry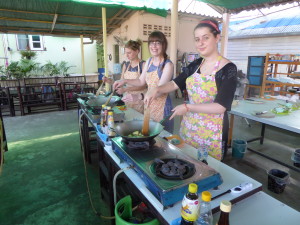 and made our own vegetable spring rolls with sweet chili sauce. Then we gathered around a big table for lunch to sample everything we had made, with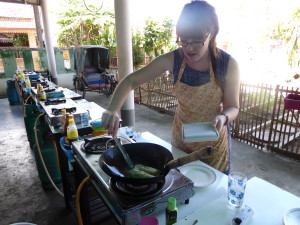 leftovers being packed up for dinner – super handy when you're about to get on an overnight train. Being on our feet for so long had tuckered us out so we spent a few hours relaxing at the hotel with beer (sadly no Beerlao, just Chang) and our books.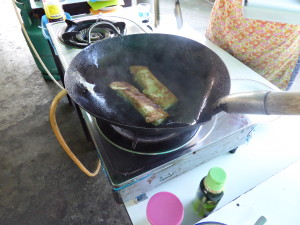 We were on the 6pm overnight train to Bangkok and I was a bit hesitant – will it be clean? Safe? Comfy? Turns out I had little to worry about. A few hours passed playing cards and reading before our seats converted into bunk beds. I presumed it would be laid out in cabins, but this train just had benches/beds along both walls in a long line. I quite liked this as it felt a bit like a big sleepover. Most people turned in early (like 9:30pm early) so I snuggled under my little blanket and had some quality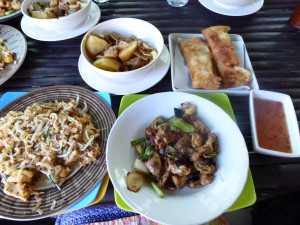 Dexter time – spoiler alert: the book series ends just as disappointingly as the TV series. They main carriage lights have been left on, very happy I've packed ear plugs and an eye mask! Let's hope I get some sleep tonight.
Find out if I survived the night on day 13…