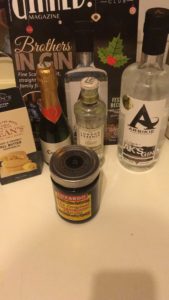 Imma start with an apology – this is a very late blog. This came at the beginning of December, but I had enough gin to drink from Ginvent so here it is, on the last day of December. I can't write about December's gin in January. That would be stupid. But anyway, at the start of December I received my favourite package, my Craft Gin Club delivery. In it came a bottle of Arbikie Gin, a gin I've seen a lot on Twitter and wanted to try for a while. This bottle is a special batch of AK's Gin – we're the first to try it yo! This gin pays tribute to A.K. Stirling – the father of founders David, Iain and John. Arbikie is pretty special as it is a one estate distillery – their main gin uses a base spirit made from farm grown potatoes and botanicals are sourced on their land. AK's gin departs from this and and uses a wheat base spirit to give it a buttery start, and adding AK's favourite food as botanicals: honey. Joining honey sourced by a neighbouring beekeper are mace, thistle, black pepper and calamus root.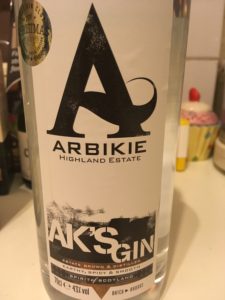 Straight from the bottle it smells good, rich and deep but nothing overpowering which in the glass opens up some fresher, lighter notes. Paired with a splash of water (can I quickly say how strange it feels doing a tasting with more than 30ml of gin, this feels like a very long process already!) there's no nasty alcohol burn. It's smooth and silky – the buttery finish is very clear. A hint of spice in the back of the mouth gives it a little lift and kick of flavour. We all know drinking straight gin is a terrible thing for me to do, but this is nice. Particularly on a dark, cold, misty Brighton day. Yay winter.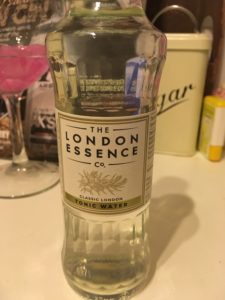 I'm using the tonic provided in our box – The London Essence Co. Classic London Tonic Water (all of their mixers are naturally low in calories and sugar, perfect for those being 'healthier' in 2017) – which on its own is actually drinkable. Especially considering it's low sugar. Not too shabby. But onto the gin. The gin brings out some more acidic flavours, but it keeps the earthiness at the back of the mouth. A small sweetness (from the honey) balances out the woodiness. A lemon wedge (because no matter how many times people suggest using orange, I WON'T DO IT) adds a citrus note to the front of the tasting. It's interesting. The earthy back notes certainly give it more depth, but it doesn't have a hit of flavour up front. This might be because it's been sat in my flat, aka the coldest place in Brighton, for a month. Craft Gin Club suggest some warm cocktails, or a cinnamon stick as a garnish which I think would enhance the flavours.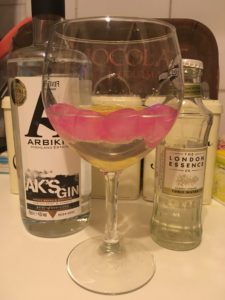 Also, DAYUM that shortbread is good. This does not lie when it says melts in the mouth.
Because this gin is super exclusive I can't seem to find it online anywhere, but a bottle of their flagship Kirty's Gin is currently £34.26 on Master of Malt. You can get in touch with them on Twitter, Facebook and Instagram.
Check out Craft Gin Club on Twitter, Facebook and Instagram. The London Essence Co. are also on Twitter, Facebook and Instagram.
Finally, Happy New Year to everyone reading. I've had an awesome 2016 and I'd like to thank y'all for sticking with me. Chat with me about gin and other fun things on Twitter and Instagram. Laters 2016 xx