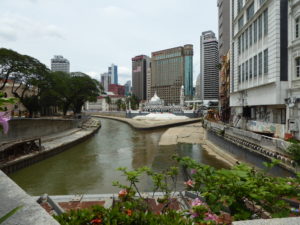 After our first few days in Kuala Lumpur, we awoke early on Saturday morning with Emma's arrival and a morning spent chilling by the pool. Eventually we got ourselves ready for the day and headed to The Loaf for breakfast/brunch/lunch. Great juices and eggs benedict on a two inch thick piece of toast was rather scrummy.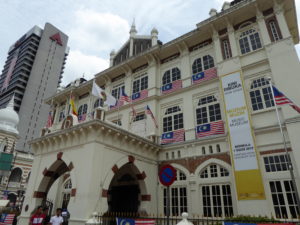 With full bellies we jumped on the train to Masjid Jamek – the oldest mosque in the city…to find it was closed to the public and surrounded by building work. So instead of going in we wandered around to the confluence of the rivers Gombek and Klang – Kuala Lumpur literally means "muddy estuary".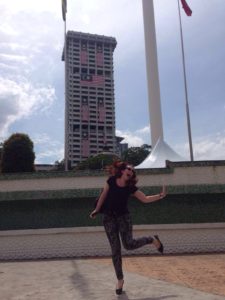 Crossing this took us to Freedom Square, home of the I <3 KL sign. Fun to take photos with, then head into the City Gallery for a £1 entry fee. Downstairs has a small but interesting display on KL's history and formation, but the winner is upstairs for an awesome multimedia display with a 3D map of the city.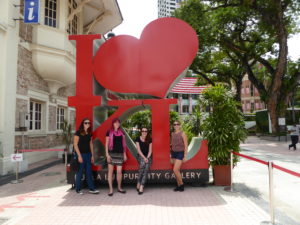 Outside the gallery in the square is a bloody great flagpole and buildings ranging in style from Persian to Tudor. It's super easy to wander from here to the Old Market and China Town from here. China Town brings the delights of fake designer goods, cheap clothes and street food.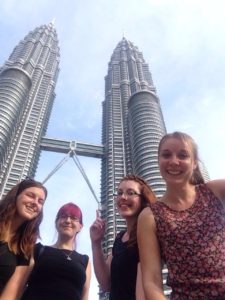 Unfortunately we were poor on time so we jumped on the train and headed to the Petronas Towers. Bloody hell they are big. Surprisingly hard to find the entrance though. Hidden within a shopping mall up some stairs, along a corridor, round a corner and down an escalator you find a very unassuming lobby.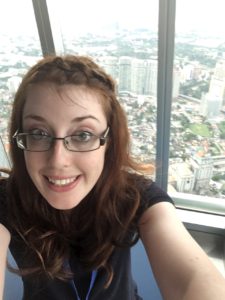 It's highly recommended to prebook as tickets on the day sell out fast (it's around £17 per person). They are super efficient, you get a coloured lanyard and are ushered up to the skybridge on the 41st floor. Given 10 minutes to admire the view (you're pretty high up) and take a few (hundred) selfies, you get put back in the lift and taken up to the 83rd floor. Then, because that's not high enough, up you go again to the 86th floor. It's proper high. Through the binoculars you can clearly see the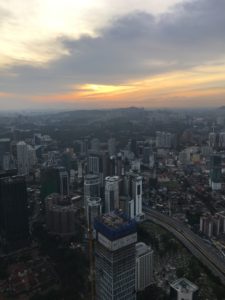 huge gold statue outside the Batu Caves. It's insane. You really are very high up. At the bottom of the towers is a large park with fountains – I highly recommend sitting here after dark. Not only do the towers look stunning at night, but the fountains also turn into a coloured light show.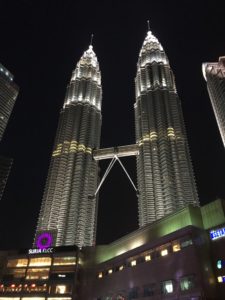 We sat here until our empty stomachs forced us to move – dinner in the food hall of the mall. After dinner we retired to the roof top bar (standard).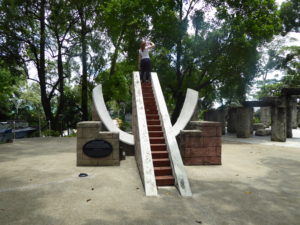 Sunday came with a very early start as Jo headed back to Hanoi (not that any of us were awake to see her go) and the remaining three of us headed to the Bird Park – the world's largest free flying aviary. It was very hot. We went the scenic route via running across an eight lane road, crossing a bridge at the National Museum and visiting mini Stonehenge in the Astronomy Centre.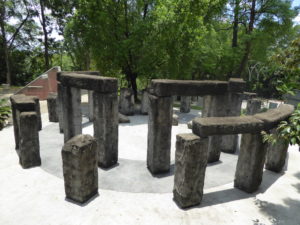 The Bird Park is huge, and beware of bird's pooing on you. You won't be able to get it off all day. Even when a kind lady offers you baby wipes.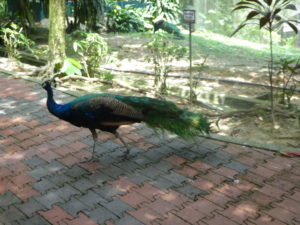 Basically, there's lots of fancy birds in aviaries and walking loose in the ground are peacocks and storks. I forgot I really don't like birds. But it was a nice afternoon, and the walk through the botanical gardens (via the deer park with a lack of deer) is worth the heat.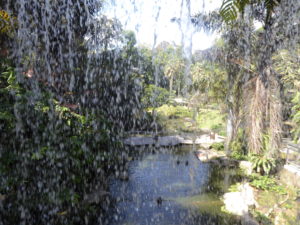 Being sweaty and sticky and tired, we jumped in a taxi back to the hotel and drove past Masjid Negara (National Mosque). Whilst we completely failed on this holiday to actually visit a mosque, the calls to prayer sounded out as we drove past.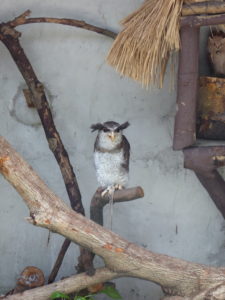 With a few hours to go until Emma's overnight train, and our morning departure, we took one last opportunity to have a splash in the pool before eating a mountain of sushi. Fresh salmon and prawn nigiri, chicken satay, vegetable tempura and more filled our bellies before saying goodbye to Emma and enjoying one final cocktail on the roof top bar ahead of Monday's flight to Kuala Terengganu and our beach resort!