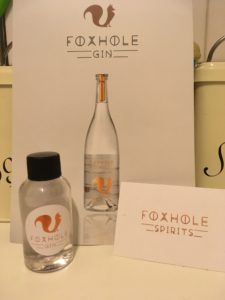 A while ago I was in a pub in the mighty Haywards Heath and got chatting to two random women about gin – as I do. They mentioned a new gin made in the area, and I went "oh that sounds interesting" and promptly forgot all about it. On Monday at work, a friend handed me a leaflet and a business card and said "I met this guy the other day, you should get in touch". Lo and behold, it was Foxhole Gin. I was in love instantly, purely because I am in love with their font and the use of a fox on the logo. I gave James, the managing director, an email and I was lucky enough to be sent a sample (thanks!) for this blog. They actually sent it to me at the start of December, but I was kinda distracted by Ginvent. But here we now are.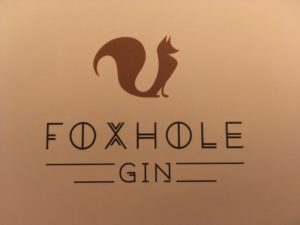 Foxhole use a grape spirit as the base, the unused by products from Bolney wine estate down the road. This makes the gin eco friendly in my books as they reduce wastage and utilise a sustainable raw ingredient. I'm expecting some similarities in taste with Chilgrove Gin as they use a grape base spirit as well. The tasting notes James kindly supplied say I will get a velvet texture with floral coriander and balanced with citrus from grapefruit and lemon. All in all, sounds good.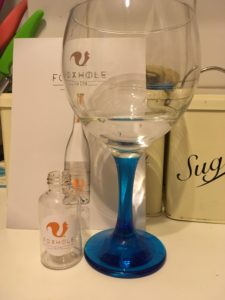 Smells slightly thick (makes sense when you smell it) and rich and fresh. The fresher tones open up in the glass. Straight up it has an almost peppery front to it, the flavour is deep and textured with a slight bitterness at the back of the threat. Mixed up with tonic, this is very smooth and fresh at the tip of the tongue and the citrus bitterness is enhanced at the back of the throat. Not overwhelming with flavour, it feels like a nice summery drink. The bitter tones make it more exciting, and this could well be a nice every day drink.
A very limited edition of the first batch of bottles are available to buy on their website at £40 a bottle. Now, is this a bit pricey? Yes. I however, think it's worth it. It is a lovely, small batch gin with a BEAUTIFUL hand crafted bottle. I'm a believer in supporting local businesses, so once I've had a raid on the bottle collection in my house, this is on the to buy list.
You can follow Foxhole Spirits on Twitter and Facebook, and let me know if you've tried it on Twitter and Instagram.
Whilst I was sent this sample for free to review, this is an honest review. I don't pretend to love things if I don't.