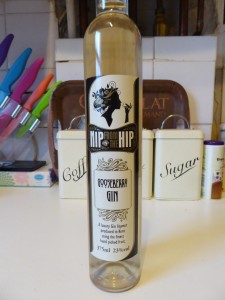 This gin was a present from my aunt/uncle/cousins for Christmas (Merry Ginmas everyone!) and it's exciting to see a new brand and a new flavour in my collection. My first question is: what does gooseberry even taste like? I'm a big fan of the bottle with a nicely designed label and colours. As I peel off the wrapper and see a wooden top I had a small panic that it was a proper cork. Luckily it was just a wooden stopper that I didn't involve a fight with a corkscrew.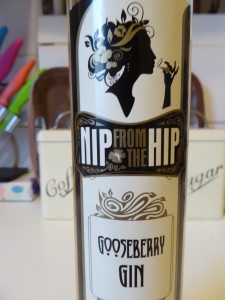 On opening it, it smells pretty good. Not as sweet smelling as I expected, almost savoury at first sniff with quite a tart smell to it. As its a liqeur at 23% and its recommended to be drunk straight, I try it so. Oh my. That's a new flavour. Almost syrupy in texture, it manages to be sweet and tart at the same time. After a few sips it's less of an attack on the senses. But I'm not certain that drinking it straight is for me.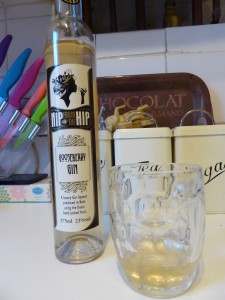 So I add some tonic to it (Co-operative Indian tonic) and it has a sweeter taste to most gin that I've tried. It's not a synthetic sweetness, it almost tastes like you've added cordial to the tonic. Maintaining a slight syrupy taste to it, it tastes like two separate drinks in one mouthful – the sweet syrupy flavours hit you first then then the fizzy bitter tonic hits you at the back of the throat. Their website says it can be enjoyed with classic tonic (they recommend Fever Tree), cloudy lemonade or elderflower cider. After making my drink I discover a bottle of Fever Tree Elderflower tonic hidden on the bottom shelf in my kitchen.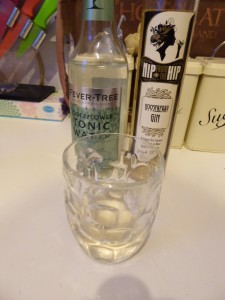 Having remade my drink with Fever Tree it is much nicer – perhaps because Fever Tree is less bitter and dry than co-ops brand, or because the elderflower tonic is sweeter in taste anyway (I confess that until I took a mouthful, I thought the tonic was Mediterranean not elderflower. But hey. It's a Sunday. I'm tired.). The flowery notes work well with the elderflower tonic although this is a bit sweet for my taste buds. Whilst it's not to my taste as a G&T, I'm going to get researching for cocktails to try this in (a gooseberry gin sour already sounds good: this gin plus lemon juice, egg white and sugar syrup). Hopefully I can update this with some good recipes soon!
You can find Nip from the Hip on their website, Facebook and Twitter.
For more gin related fun times, I'm on Twitter and Instagram.