Please note: going here wasn't my choice, I suggested La Choza and Catriona suggested otherwise. I was too exhausted to argue.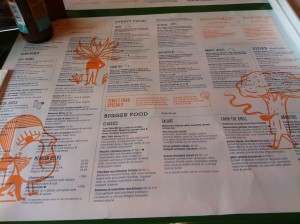 So we arrived at the new Wahaca at 6:30pm on a Tuesday and it was already buzzing with a fun and friendly atmosphere. After waiting 10 minutes in the bar we were seated in the window. Whilst the table was a decent size (you know sometimes a table for two is ridiculously tiny?) the seats were terrible. Imagine sitting in a plastic bucket with some fuzzy fabric on it. I spent all night feeling on edge – not what I needed that day. Or indeed ever. Not even a cushion to sit on. After another wait we manage to order some drinks – one bramble (me) and one medium Sauvignon (Catriona). Note: if you want to order wine you can only get a 175ml glass, a 500ml carafe or a bottle. No large glasses. And they charge £6.25 for the pleasure of a Sauvignon. One more wait and the wine arrives. Another wait and the cocktail arrives. Whilst we waiting then AGAIN to order food I try my drink and am instantly less annoyed. Wonderfully tart with loads of lime juice. Catriona's wine is "nothing special, it's alright wine but it could definitely be bigger".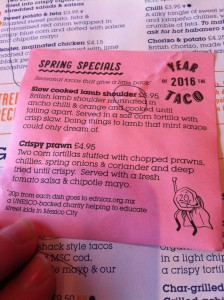 Finally we get to order and I go for the slow cooked burrito with extra cheese, and Catriona goes for the tapas selection of slow cooked lamb shoulder tacos (the special that day), sweet potato and feta taquitos, and chorizo and potato quesadillas.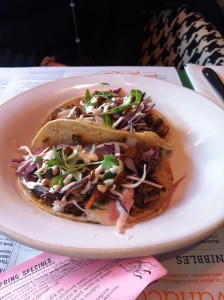 As the food is "freshly made" it comes when it is ready and the tacos arrive first. Two small bundles of meat in a soft tortilla, I ask how it is and get a "meat is good" Catriona nods with a mouth full of food. "The last mouthful was the best". Second comes the quesadillas, third the tacquitos, and fourth is Jenny with no food boo 🙁 After one mouthful of the quesadilla, Catriona shouts "THAT'S GREAT" and offers me a mouthful. It is damn tasty. Although in my opinion could do with a bit more filling, just feels a bit empty. The tacquitos were "phenomenal". Considering Catriona nearly didn't order them they were her favourite thing. One thing, they could do with more feta. They were described as containing feta however it was just sprinkled on top.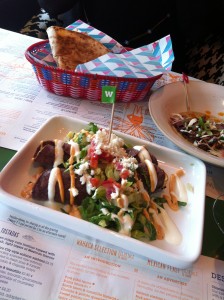 My burrito arrived and in my excitement to eat I pick it up and the pulled pork slowly falls out the bottom. So I had to eat it with a knife and fork which felt very very wrong. The pulled pork was good, well spiced and flavoured and there was plenty of meat. It came with a little side of tortilla chips which were crunchy and salty and a good contrast to the messy (slightly soggy) burrito. This is why La Choza's foil wrapped burritos are brilliant. They have a lack of mess. The burrito wasn't spicy at all, and I didn't like that they don't give you an option on the heat. I imagine it's because, as a national chain, they have to be fairly bland to cater for people that don't like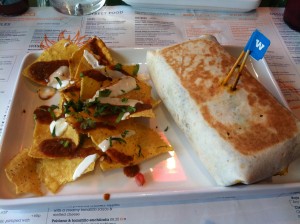 The general consensus from our trip was "meh". The food is fine. The drinks are fine. It's a fun atmosphere and good for families but it's no La Choza. If you just want some Mexican food you could do a lot worse but you could also walk about 5 roads over for La Choza. After our meal, Catriona agreed that we should have just gone to La Choza. They had only been open a week or so when we went so we hoped the waiting was due to it being new and perhaps a lack of staff.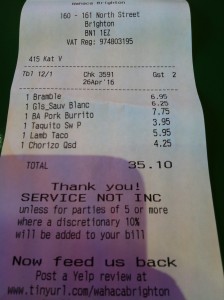 Our meals and drinks came to £35, and we both agreed that we felt our share was too much for the taste.
Basically, go to La Choza. It's always the better option. However, you can check out Wahaca on Twitter, Facebook and Instagram. You can also follow me on Twitter and Instagram – and very excitingly we finally convinced Catriona to join Instagram!